NEW RENEWABLE CAPACITY IS 35 TIMES THAT OF COAL, OIL, AND NUCLEAR COMBINED
Washington DC – According to the latest "Energy Infrastructure Update" report from the Federal Energy Regulatory Commission's (FERC) Office of Energy Projects, renewable energy sources (i.e., biomass, geothermal, hydropower, solar, wind) account for more than two-fifths (40.61%) of all new U.S. electrical generating capacity put in-service during the first nine months of 2014. Only natural gas provided more new generating capacity.

In fact, new capacity in 2014 from the combination of renewable energy sources thus far is almost 35 times that of coal, oil, and nuclear combined (3,598 MW vs. 104 MW).
For the month of September alone, renewables accounted for over two-thirds of the 603 MW of new generating capacity put in-service [367 MW of wind (60.86%) plus 41 MW of solar (6.80%)].
Of the 8,860 MW of new generating capacity from all sources installed since January 1, 2014, 187 "units" of solar accounted for 1,671 MW (18.86%), followed by 28 units of wind 1,614 MW (18.22%), 7 units of hydropower 141 MW (1.59%), 38 units of biomass 140 MW (1.58%), and 5 units of geothermal 32 MW (0.36%).
The balance came from 41 units of natural gas 5,153 MW (58.16%), 1 unit of nuclear 71 MW (0.80%), 11 units of oil 33 MW (0.37%), and 6 units of "other" 7 MW (0.08%). There has been no new coal capacity added thus far in 2014.
Comparing the first nine months of 2014 to the same period in 2013, new generating capacity from renewable energy sources grew by 11.8% (3,598 MW vs. 3,218 MW).
Renewable energy sources now account for 16.35% of total installed operating generating capacity in the U.S. - up from 15.68% a year earlier: water - 8.45%, wind - 5.35%, biomass - 1.38%, solar - 0.84%, and geothermal steam - 0.33%. Renewable energy capacity is now greater than that of nuclear (9.23%) and oil (3.97%) combined. *
"The steady and rapid growth of renewable energy is unlikely to abate as prices continue to drop and the technologies continue to improve," noted Ken Bossong, Executive Director of the SUN DAY Campaign. "The era of coal, oil, and nuclear is drawing to a close; the age of renewable energy is now upon us."
Featured Product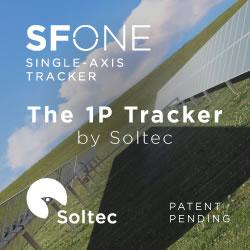 SFOne is the 1P single-axis tracker by Soltec. This tracker combines the mechanical simplicity with the extraordinary expertise of Soltec for more than 18 years. Specially designed for larger 72 an 78 cell modules, this tracker is self-powered thanks to its dedicated module, which results into a lower cost-operational power supply. The SFOne has a 5% less piles than standard competitor, what reduces a 75% the labor time.