Enphase 25kW of Microinverters Donation Brings Project to 18% of Fundraising Goal
San Francisco, CA – October 29, 2014 – Today Everybody Solar announces that Enphase Energy, the leading microinverter technology provider, has donated over 100 microinverters and accessories to the Wildlife Associates project in Half Moon Bay. This in-kind donation will help significantly lower the cost of the project and pushes Everybody Solar past 18 percent of their fundraising goal.

"Giving back to our local community is important to Enphase and our employees," said Jeff Loebbaka, senior vice president of global sales, marketing and support at Enphase. "Our collaborative effort with Everybody Solar will help bring clean energy to Wildlife Associates and reduce electricity costs so more resources can be directed toward the organization's animal-care and education programs."
"We're thrilled to partner with Enphase on the Wildlife Associates' solar installation. Enphase's contribution will make a big impact on the cost and expediency of the project," says Youness Scally, Executive Director of Everybody Solar. "Wildlife Associates spends over $12,000 a year on electricity as they care for their wild animals or 'teachers' and going solar will cut their electric expenses by 90%. With Enphase's support, the new system will be able to maximize the optimal energy harvest from each solar panel and publicly monitor energy production in real-time, making our donor dollars stretch even further. Wildlife Associates will be able to spend more on their programs and further educate the public about the benefits of solar energy and conservation."
The solar array will save Wildlife Associates enough to fund their programs to teach an additional 5,000 kids each year about wildlife and science. People looking to learn more about Wildlife Associates are invited to join Everybody Solar on an interactive tour of the facility on Saturday, November 8th, at the Wildlife Associates Sanctuary in Half Moon Bay (map). Tickets can be reserved at http://www.bringsolartowildlife.eventbrite.com. Individuals can also donate directly to the project at http://www.everybodysolar.org/our-work/solar-projects/current-projects/143-bring-solar-to-wildlife-associates.
About Everybody Solar
Everybody Solar is a non-profit organization based in San Francisco, CA. They work to protect the environment and strengthen U.S. communities through solar energy projects. By providing solar power to local charities, they help these organizations reduce electricity costs and direct their limited resources to the communities they serve. Everybody Solar is a charitable organization and depends on volunteers and the generosity of the public to perform its mission. Visit them online at http://www.everybodysolar.org, like them at http://www.facebook.com/everybodysolar, or tweet at them at www.twitter.com/everybodysolar.
About Enphase Energy, Inc.
Enphase Energy delivers microinverter technology for the solar industry that increases energy production, simplifies design and installation, improves system uptime and reliability, reduces fire safety risk and provides a platform for intelligent energy management. The company has 100+ patents issued or pending and 400+ employers worldwide. Its semiconductor-based microinverter system converts energy at the individual solar module level and brings a systems-based, high technology approach to solar energy generation. Connect with Enphase on Facebook and follow us on Twitter. www.enphase.com
About Wildlife Associates
Since 1980, Wildlife Associates has provided nationally acclaimed educational programs for children, families, and adults throughout the Greater San Francisco Bay Area. At its 120-acre wildlife sanctuary in Half Moon Bay, the organization cares for more than 50 non-releasable animals that could not survive in the wild. These amazing animals take on the role of "Wild Teachers" in Wildlife Associates' educational programs. Designed to help students of all ages be scientifically literate citizens and good stewards of the earth, Wildlife Associates provides over 800 educational presentations each year. Visit them online at http://www.wildlifeassociates.org.
Featured Product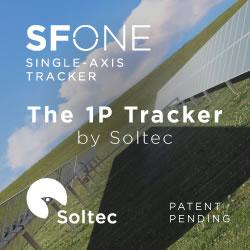 SFOne is the 1P single-axis tracker by Soltec. This tracker combines the mechanical simplicity with the extraordinary expertise of Soltec for more than 18 years. Specially designed for larger 72 an 78 cell modules, this tracker is self-powered thanks to its dedicated module, which results into a lower cost-operational power supply. The SFOne has a 5% less piles than standard competitor, what reduces a 75% the labor time.