Battery's attractive economics highlighted in Energy Strategies Group White Paper
Columbia Falls, MT – ViZn Energy Systems, Inc., a pioneer in large-scale energy storage technology, has announced that its zinc redox flow battery technology has been highlighted as a viable substitute for many simple cycle peaking power plants in a white paper by Energy Strategies Group (ESG), a specialist consultancy in grid-scale energy storage technologies.

ESG's white paper titled, "Guide to Procurement of Flexible Peaking Capacity: Energy Storage or Combustion Turbines?" looks at the efficacy and economics of substituting advanced energy storage for simple cycle combustion turbine peaker plants. In its paper, ESG highlights the economics of ViZn Energy's flow battery for peak power substitution.
Every power grid must have extra electrical capacity to handle peak power demand. Simple cycle gas-fired combustion turbines (CTs) have historically provided much of the nation's electrical peaking capacity. The cost of energy storage from flow batteries is now converging with the cost of combustion turbines when four hours or less of peaking capacity is required. This represents a large new market for multi-hour flow battery energy storage.
As stated by Chet Lyons, ESG principal and author of the white paper: "ViZn Energy's flow battery is an economically attractive substitute for many simple cycle gas-fired combustion turbine peaking plants, especially when deployed on a distributed basis and owned and operated by the electric utility." He specifically noted the following: "Using ViZn Energy's zinc/iron flow battery, the CapEx for a substitute 4-hour storage-based peaker plant is projected to be $1,390 per kW by 2017, or $348 per kWh of installed capacity." He added, "At that price point, storage will be directly competitive with some conventional simple cycle CTs. For CTs at the higher end of the CT cost range, ViZn Energy's 4-hour storage will be a clear winner by 2017."
Lyons also noted: "By 2018 the CapEx of ViZn Energy's 4-hour flow battery storage solution, which ESG uses as a proxy for the lowest cost flow battery technologies now being commercialized, is projected to be $974 per kW, or $244 per (installed) kWh, essentially the same as a conventional simple cycle CT. Storage will be a disruptive winner against simple cycle gas-fired CTs at that point, assuming a typical mid-range cost for competing fossil-based CT generation resources."
Ron Van Dell, CEO of ViZn Energy Systems, commented: "The regulatory landscape for energy storage is undergoing rapid and exciting change. As an example, Arizona Public Service and the Residential Utility Consumer Office recently filed a joint proposal to require that at least 10 percent of any new peaker capacity currently being planned as simple cycle combustion turbines instead be switched to energy storage as long as storage can meet the cost effectiveness and reliability criteria of a simple-cycle combustion turbine. That's exactly what ViZn Energy Systems' technology can do."
Van Dell continued, "ESG's comprehensive white paper is further validation of ViZn's safe, effective and innovative technology and provides an excellent analysis of where we see our products fitting into the energy storage space in the next five years."
ESG's white paper concludes that utility planners should make cost-benefit analysis of energy storage for peaker plants mandatory practice in all parts of the United States.
About ViZn Energy Systems, Inc.
ViZn Energy Systems, Inc. is comprised of a visionary team of scientists, engineers and business leaders that are passionate about creating and commercializing a revolutionary energy storage solution for the micro grid market. Founded in 2009 and based on eight previous years of research, ViZn is commercializing energy storage systems for mega-watt applications. The ViZn solution is safe, reliable, cost effective, and scalable to meet the needs of today's ever changing energy landscape. For more information, visit: www.ViZnEnergy.com
Featured Product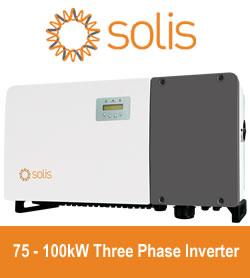 Solis75kW - 100kW series high-power string inverters are widely used in industrial and commercial rooftops. Solis's new three-phase string inverter is the first choice for industrial and commercial photovoltaics. 75-100kW three phase series string inverter have Maximum 28 strings input, support "Y" type connection in DC side. Maximum string input current 13A, support bifacial modules access.Supports anti-PID function to improve system efficiency.