NPS Wind Turbines and Microgrid Expertise Help Power South Korean Island
Barre, VT USA (30 October 2014) – Northern Power Systems (www.northernpower.com) (TSX: NPS) has commissioned four of its NPS 100 wind turbines in South Korea's newest and most advanced hybrid energy project, while working in close collaboration with the national grid operator Korean Electric Power Corporation (KEPCO), to ensure effective delivery of this hybrid microgrid. The 100kW turbines are the largest component of energy generation in what's known as a "high‐penetration" wind‐diesel hybrid system with solar and storage. Power is now delivered to remote island residents with an integrated, reliable wind/solar/storage supply for as low as $.25 per kWh, representing substantial savings over the

previous diesel‐only energy solution.
The NPS 100‐21 was chosen due to its superior energy production, its compatibility with multiple generation technologies, a proven history of operating in hybrid microgrids, and its ability to withstand typhoons that regularly affect the region. The distributed wind turbines were supplied and installed in cooperation with Haebaram Energy.
The installation also features a KEPCO developed Energy Management System (EMS), 314 kW array of
solar photovoltaic (PV) panels and a 3 MWh Hyosung battery storage facility. The site provides enough
power to supply more than 160 homes, a water treatment plant, a lighthouse and radar station on the
island.
The project is the cornerstone of an initiative to transform the islands around the Korean peninsula
into renewable power communities, no longer dependent on fossil fuel and government subsidies. The
microgrid and full inverter were designed by KEPCO which plans to install similar systems on additional
local islands.
Northern Power Systems is now offering throughout Asia both its next generation distributed wind
turbine, featuring state‐of‐the‐art blade technology and a variety of hub heights, as well as proven
capabilities to effectively deliver reliable power generation in a variety of environmental conditions.
Troy Patton, CEO and President of Northern Power Systems, said "We are excited to be bringing our
solutions to Asian markets. We have been helping to deliver stable energy solutions to hybrid
microgrids for over 10 years in North America. During this time we have proven that we can provide a
significantly lower cost of energy that leverages local natural resources."
About Northern Power Systems
Northern Power Systems designs, manufactures, and sells wind turbines, and provides engineering
development services and technology licenses for energy applications, into the global marketplace
from its US headquarters and European offices.
* Northern Power Systems has almost 40 years' experience in technologies and products
generating renewable energy.
* Northern Power Systems currently manufactures the NPS 60 and NPS 100 turbines. With
over 5 million run time hours across its global fleet, Northern Power wind turbines provide
customers with clean, cost effective, reliable renewable energy.
* Patented next generation permanent magnet/direct drive (PM/DD) technology uses fewer
moving parts, delivers higher energy capture, and provides increased reliability due to reduced
maintenance and downtime.
* Northern Power Systems offers comprehensive in‐house development services, including
systems level engineering, advanced drivetrains, power electronics, PM machine design, and
remote monitoring systems to the energy industry.
* Some of the world's largest manufacturers license NPS next generation technology and
intellectual property for their utility and distributed wind products and markets.
To learn more about Northern Power Systems, please visit www.northernpower.com.
Featured Product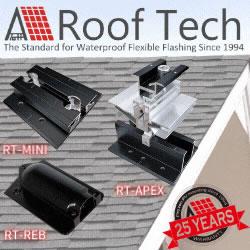 Now Roof Tech brings you the most innovative, watertight mounting systems ever developed for solar photovoltaic systems. Designed and manufactured exclusively for us by Japan's longtime leader in roofing technologies, Roof Tech products are 100% code-compliant and offer fast, simple installation and huge savings on shipping costs due to their compact, rail-less design. Learn more about our full line of versatile PV mounting solutions now available for residential installations. The next generation in rooftop solar mounting solutions."