Strengthens SPI's Leading Distributed Generation (DG) Solar Business
ROSEVILLE, Calif.--Solar Power, Inc. ("SPI" or "SPI Solar") (OTCBB: SOPW), a vertically-integrated photovoltaic solar developer, today announced that its wholly owned subsidiary, Xinwei Solar Power Engineering (Suzhou) Co., Ltd., ("Xinwei Solar") has entered into a framework purchase agreement for the acquisition of a 100% equity interest in Shanghai All-Zip Roofing System Group Co., Ltd. ("All-Zip Roofing") with All-Zip Roofing and its owners, including five private equity investors.

All-Zip Roofing is a leading provider of comprehensive roofing solutions in the China market. It focuses on energy conservation and environmental protection and holds several key patents concerning roofing. It has played a key role in the development and drafting of national roofing standards in China, and established the first industry association for roofing in the country.
"We are pleased to announce this framework agreement with All-Zip Roofing," said Xiaofeng Peng, Chairman of SPI. "We aim to leverage our high-quality, low-cost development services and All-Zip Roofing's leading position in the roofing business to become the leading DG business in China. All-Zip Roofing's dominance in Eastern China, one of the fastest growing markets for DG, will increase our access to an especially promising market."
Subject to the conditions of the agreement, SPI Solar intends to acquire All-Zip Roofing for an aggregate purchase price of 11 times the earnings of All-Zip Roofing, based on its audited financial statements for 2014, or approximately RMB330.0 million. Consideration for the acquisition will consist entirely of SPI ordinary shares valued at a price of U.S. $2.38 per share, and will be calculated based on the exchange rate at October 28, 2014. Prior to the acquisition, All-Zip Roofing will engage in an off-shore and on-shore reorganization. Upon the completion of the reorganization, Xinwei Solar will acquire All-Zip Roofing. The closing date of the transaction is expected to occur 10 working days after the date that all closing conditions are fulfilled.
About Solar Power, Inc. (OTCBB: SOPW):
Solar Power, Inc. ("SPI" or "SPI Solar") is a vertically-integrated photovoltaic solar developer offering its own brand of high-quality, low-cost distributed generation and utility-scale solar energy facility development services. From project development, to project financing and to post-construction asset management, SPI delivers turnkey world-class photovoltaic solar energy facilities and turnkey residential solar solutions to its business, government and utility customers. For additional information visit: www.spisolar.com.
About Shanghai All-Zip Roofing System Group Co., Ltd.
Founded in 2004, Shanghai All-Zip Roofing System Group Co., Ltd. specializes in providing total solutions for roofing systems of buildings. It is primarily focused on energy conservation and the environment protection field, including roofing systems for public buildings, integrated systems for solar power projects and buildings, solar mounting systems, all-in-one energy-saving roofing systems, rainwater collection and green roofing systems, and reforming roofing systems of old buildings for insulation and waterproofing. For additional information visit: www.all-zip.com
Featured Product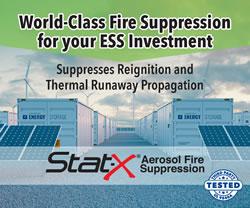 Stat-X® condensed aerosol fire suppression is a solution for energy storage systems (ESS) and battery energy storage systems (BESS) applications. Our Stat-X condensed aerosol fire extinguishing product was tested for efficacy in suppressing li-ion battery fires. It was found that the product successfully extinguished single and double cell battery fires. This testing was conducted in parallel with a large battery fire testing program on behalf of a large energy storage company.