Energy Saving, Plug-and-Play LED Replacement for Metal Halide Lamps Recognized
Santa Clara, Calif. – November 4, 2014 – Lunera® Lighting, Inc., a leader in lighting innovations accelerating the transformation to advanced LED technology, announced today that the Susan Lamp, a plug-and-play LED replacement lamp for traditional metal halides was selected by the Illuminating Engineering Society (IES) Progress Committee as an important advancement in lighting for its 2014 Progress Report. The IES Progress Report will be announced during the 2014 IES Conference on November 3, 2014 in Pittsburgh, Pennsylvania.

"We are honored the Susan Lamp was selected for the 2014 IES Progress Report. It's a prestigious recognition that signifies that our retrofit products provide a significant new technology advancement to the lighting industry," said Tom Quinn, Lunera Vice President of Sales and Marketing. "Our plug-and-play Susan Lamp delivers the lowest installed cost-per-watt saved of any LED high bay solution available in the market today," he added.
Lunera's innovative BallastLED products have been well received by the IES Progress Committee. The Lunera Helen Lamp, a plug-and-play LED replacement for the compact fluorescent lamp (CFL) was included in the 2013 report. Simple to deploy, reliable to operate, and valuable to own; Lunera's BallastLED technology requires no changes to existing lighting infrastructure in order to capture the value LED technology can bring to commercial buildings.
The Susan Lamp makes 400, 250 and 175-watt metal halide lamps obsolete. Available in two lumen package options, the Susan Lamp Pro and the Susan Lamp Junior bring high-quality energy-efficient LED light to high-bay lighting applications.
Throughout its long 50,000-hour life the Susan Lamp delivers consistent light levels at a fraction of the power used by a traditional metal halide lamp. The Susan Lamp eliminates the frustrations of rapid lumen depreciation; short life span and excessive power consumption of the pulse or probe start metal halide lamps it replaces.
Where to Buy
The Susan Lamp is available through authorized nationwide distributors. Contact Lunera to arrange a demonstration or to locate a distributor near you.
About Lunera
Lunera Lighting is an innovative technology leader in LED light products that are simple to install, reliable to operate, and valuable to own. Lunera designs, assembles, and markets high performance commercial LED fixtures and lamps that obsolete traditional lighting technologies. For building owners and operators, Lunera's products reduce operating expenses by lowering electricity and maintenance costs. For occupants, Lunera's technology improves light quality, enhancing comfort and productivity. Based in Silicon Valley, Lunera is part of a community of progressive companies that challenge convention and transform industries for the benefit of all. Visit Lunera on the web, Facebook or Twitter.
Featured Product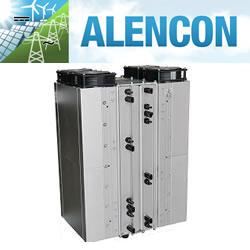 Alencon Systems is the premier manufacturer of high power, high voltage DC:DC optimizers for alternative energy applications including solar, battery energy storage, Microgrids, Fuel Cells and Electric Vehicle charging. Alencon's DC:DC converter offerings include the SPOT, BOSS and CUBE series DC:DC converters. The SPOT is a modular, uni-directional DC:DC solution ideal for solar applications. The BOSS is a modular, bi-directional unit for use with battery energy storage. The CUBE is a monolithic DC:DC converter which is available in both uni-directional and bi-directional modalities. Pictured above, is the Alencon SPOT.