Top 20 module suppliers grow downstream pipelines, increasing shipments for in-house projects
Santa Clara, Calif., Nov 5, 2014: An increasing number of the top 20 solar photovoltaic (PV) module suppliers are shifting their strategic focus within the industry, by increasing shipments for dedicated in-house projects. Previously championed by First Solar, SunPower, and Canadian Solar in recent years, this model provides PV manufacturers with the flexibility to choose between shipping product for in-house projects, or to third parties that use the modules for their own projects.

According to the latest NPD Solarbuzz Module Tracker Quarterly report, 17 of the top 20 solar PV module suppliers to the industry now have dedicated project business units or subsidiaries that are tasked with PV systems deployment. Some Chinese suppliers are currently spinning out downstream business units in preparation for initial public offerings (IPOs).
"During Q3'14, the top 20 solar PV module suppliers, which have approximately two-thirds of global demand, shipped almost 8 GW of modules," according to Ray Lian, senior analyst at NPD Solarbuzz. "This quarterly shipment volume marks yet another record for the top 20 supplier group, despite increased shipment levels now for in-house projects."
Solar PV project activities have been a key focus for a select group of leading module manufacturers in recent years, in particular First Solar and SunPower. Revenues from downstream business activities have been instrumental in helping to navigate through the industry downturn, when margins from pure-play manufacturing were negatively impacted due to rapidly declining module prices.
However, revenue recognition from project activity using in-house modules provides an additional level of accounting conditions that need to be satisfied, compared to simply shipping product to third party developers. During 2014 however, this flexible approach has seen greater popularity, in particular from leading Chinese and Japanese suppliers, with the scope for future revenues upon project completion.
"Having a strong presence in downstream project development also allows companies to benefit from favorable solar PV incentives available in domestic and international markets," added Lian. "Similar to dedicated project developers, this allows the option to hold projects, spin-off the assets into a yield company, or simply sell the projects upon completion to institutional investors."
Two of the leading Chinese module suppliers in recent years, Jinko Solar and ET Solar, have now separated out downstream business units in preparation for an IPO. Other leading module suppliers in Japan, including Sharp Solar and Panasonic, have also announced plans to adjust solar business models to become energy solution providers.
According to Lian, "Approximately 1.8 GW of modules are expected to be shipped this year for internal projects activities by just four companies: Trina Solar, Yingli Green Energy, Jinko Solar, and JA Solar. While this will result in delays in recognizing revenues for this portion of module shipments, expansion into downstream projects business is expected to offer added value and incremental revenue streams in the coming years."
For more information about the NPD Solarbuzz Module Tracker Quarterly, contact Charles Camaroto at 888.436.7673 or 516.625.2452, or e-mail contact@displaysearch.com for more information.
About NPD Solarbuzz
NPD Solarbuzz, part of The NPD Group, offers Marketbuzz, Solarbuzz Quarterly, and annual downstream photovoltaic (PV) market reports, providing the solar energy and PV industries with global historical and forecast data for the PV supply chain. For more information, visit www.solarbuzz.com or follow us on Twitter at @Solarbuzz.
About The NPD Group, Inc.
The NPD Group provides global information and advisory services to drive better business decisions. By combining unique data assets with unmatched industry expertise, we help our clients track their markets, understand consumers, and drive profitable growth. Practice areas include automotive, beauty, consumer electronics, entertainment, fashion, food/foodservice, home, luxury, mobile, office supplies, sports, technology, toys, and video games. For more information, visit npd.com and npdgroupblog.com. Follow us on Twitter at @npdtech and @npdgroup.
Featured Product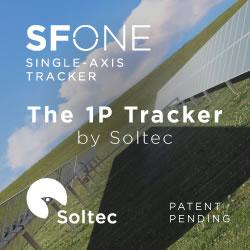 SFOne is the 1P single-axis tracker by Soltec. This tracker combines the mechanical simplicity with the extraordinary expertise of Soltec for more than 18 years. Specially designed for larger 72 an 78 cell modules, this tracker is self-powered thanks to its dedicated module, which results into a lower cost-operational power supply. The SFOne has a 5% less piles than standard competitor, what reduces a 75% the labor time.