Military-focused Web Tool How and Where US Installations are Investing in Clean Energy; Projects in: AZ, CA, CO, FL, GA, HI, MS, NM, NY, NC, OK, TN, TX, UT and VA.
WASHINGTON, D.C. – As Veteran's Day approaches, a new Web site tool from Environmental Entrepreneurs (E2) will track clean energy projects at military bases nationwide.

The new Web tool will be released at 1 p.m. EST Thursday (November 6, 2014).
The interactive map will include information on renewable energy projects at roughly 40 military installations, located in the following states: Arizona, California, Colorado, Florida, Georgia, Hawaii, Mississippi, New Mexico, New York, North Carolina, Oklahoma, Tennessee, Texas, Utah and Virginia.
The new E2 military renewables webpage will be featured on the http://www.CleanEnergyWorksforUS.org Web site, which provides searchable details on growth in the renewable energy, energy efficiency and smart transportation sectors nationwide.
ABOUT E2
Environmental Entrepreneurs (E2) is a national, non-partisan group of business leaders, investors and others who promote smart environmental policies that drive economic growth. Our members, active in nearly every state in the country, have built or financed more than 1,700 companies that have created more than 570,000 jobs, and manage more than $100 billion in venture and private equity capital. For more information, go to http://www.e2.org/ or http://www.CleanEnergyWorksforUS.org.
Featured Product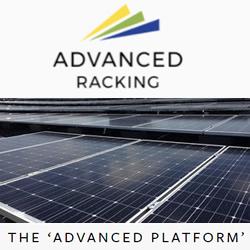 The 'Advanced Platform' simplifies the installation process by using universal mounting hardware that works perfectly across all roof types. Smart roof connection kits then connect to the specific roof's surface. The Advanced Platform is versatile: Our common design can be your single solution for all roof types.