Plug Power Will Install GenFuel Infrastructure and Add 110 More GenDrive Units to Support New Refrigerated Meat Warehouse in Newark, New Jersey
LATHAM, N.Y., Nov. 6, 2014 -- Plug Power Inc. (Nasdaq:PLUG), a leader in providing clean, reliable energy solutions, today announced that Newark Farmers Market has expanded its investment in hydrogen fuel cell technology, and will be integrating a full GenKey solution to support material handling operations for a new food distribution building now under construction at its Newark, New Jersey site.

Newark Farmers Market has purchased an additional 110 GenDrive units, more than doubling the size of its fuel cell-powered lift truck fleet at the Newark location. This order is comprised of 25 class-2 standup reach truck units and 85 class-3 pallet jack units. Plug Power will deliver the GenDrive units to Newark Farmers Market in the fourth quarter of 2014. Fleet deployment will be completed in the first quarter of 2015.
Under the GenKey contract, Plug Power will construct a complete GenFuel hydrogen infrastructure, including indoor dispensers and outdoor fuel storage. The outdoor infrastructure includes a 15,000 gallon hydrogen tank with dual redundant pumps and gas compressor. This entire GenFuel hydrogen infrastructure will address the current and new GenDrive fleets. Additionally, the contract provides Newark Farmers Market with GenCare aftermarket service and support.
Through its investment in GenKey, Newark Farmers Market anticipates that its material handling fleet efficiency and productivity will continue to help the company see positive results. GenFuel services include the design, procurement, commissioning and maintenance of all fuel-related components required to successfully dispense hydrogen at the facility. Plug Power's GenDrive fuel cell units are designed to interface precisely with GenFuel dispensers, ensuring optimal refueling.
"True validation of our fuel cell solutions is witnessed through repeat customer orders," said Andy Marsh, CEO at Plug Power. "Plug Power took the opportunity to clearly showcase the benefits a GenDrive solution can have on a growing business. Now, we look forward to helping Newark Farmers Market realize even more operational efficiency and cost-savings through their facility expansion and deployment of the complete GenKey package."
"We've been very happy with the fuel cell units that have been running our lift truck fleet since 2011," said David Forem, President of Forem Facility Management, which operates the Newark Farmers Market. "We made the decision to go with Plug Power's full GenKey solution in combination with the construction of our new state-of-the-art food distribution center, because it aligns with our energy-efficiency initiatives and our desire to reduce the environmental impact of warehouse operations on local communities."
Newark Farmers Market has been a Plug Power customer since 2011. Its original GenDrive fleet, consisting of over 100 units, to-date has accumulated over 625,000 hours of run time. The additional fleet ordered for the new refrigerated warehouse, will operate in temperatures kept at a constant 28 degrees F. The power provided by GenDrive remains superior in cold-storage applications. Unlike lead-acid batteries, which deplete even faster in extremely low temperatures, Plug Power's fuel cell units maintain consistent performance in environments as low as –22 degrees F. Productivity is increased as battery droop is eliminated. The hydrogen-based GenDrive units also enable the facility to support sustainable operations, as they generate only heat and water as byproducts.
About Plug Power Inc.
The architects of modern fuel cell technology, Plug Power is revolutionizing the industry with cost-effective power solutions that increase productivity, lower operating costs and reduce carbon footprints. Long-standing relationships with industry leaders, including Walmart, Sysco, Procter & Gamble, and Mercedes-Benz, forged the path for Plug Power's innovative GenKey hydrogen and fuel cell system solutions. With more than 5,000 GenDrive units deployed to material handling customers, accumulating over 20 million hours of runtime, Plug Power manufactures tomorrow's incumbent power solutions today. Additional information about Plug Power is available at www.plugpower.com.
Featured Product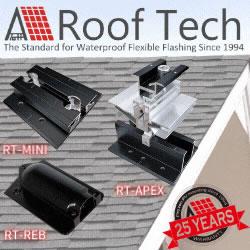 Now Roof Tech brings you the most innovative, watertight mounting systems ever developed for solar photovoltaic systems. Designed and manufactured exclusively for us by Japan's longtime leader in roofing technologies, Roof Tech products are 100% code-compliant and offer fast, simple installation and huge savings on shipping costs due to their compact, rail-less design. Learn more about our full line of versatile PV mounting solutions now available for residential installations. The next generation in rooftop solar mounting solutions."