TRA Snow and Sun's One-Stop System, provided free engineering, design layout and project support for a unique solar array on the south wall of the Williamsburg Cinemas (Brooklyn, NY), solving difficult attachment problems.
Brooklyn, New York November 06, 2014

TRA Snow and Sun, Inc. of American Fork Utah helped solve a big problem for Bret Heilig of Fiveboro Solar in New York City. When the rooftop space is used up, how do you get more solar panel power? How to mount solar panels to the side of a building and also abide by the strict codes and rules in Brooklyn, NY?
New York State encourages solar photovoltaic energy-producing investment by homeowners and businesses, providing incentives to reduce the installation costs of solar PV through the New York State Energy Research and Development Authority (NYSERDA.) This and the popularity of solar power has resulted in a total of 316 MW of solar PV being installed or under contract, as of June, 2014 - more than was installed in the entire prior decade.*
Installation of PV has increased in NY and integrators are thrilled with the increase, but even with the incentives, they must also abide by numerous regulations pertaining to solar array installations. While most solar arrays are mounted on rooftops with a southern exposure, using the entire rooftop is not always possible due to local regulations. One restriction in Brooklyn allows for only 25% of the roof space to be utilized for solar panels and also requires room on the roof for fire and emergency personnel to move around. So sometimes "canopy" systems are built for solar panels. The framework of a canopy system allows for panels to be mounted 9 feet above the roof which allows space for people to move underneath the panels.
Fiveboro Solar installed a solar canopy on the Williamsburg Cinemas in Brooklyn, New York, which had many roof obstructions. They adhered to the 25% restriction of available roof space. But this wasn't enough energy for the modern looking theater complex with sleek architectural styling and a 3-story wall of windows. How do you get more power without using up more roof space?
An awning system, which mounts the solar panels on a wall, was considered but there were road blocks. The city has a another rule that solar panels cannot protrude from the structure more than twelve inches. There is also a restriction on how much wall space the panels can take up. In this area, that restriction was the same as the canopy system on the roof - 25% of wall space. Bret Heilig of Fiveboro Solar couldn't find a solar mounting company that could create a system with these unique requirements.
According to Heilig, "I kept hearing from solar mounting companies that their product could only go on at a fixed depth and they couldn't do anything unique. And this project was unusual. I finally found TRA Snow and Sun who said no problem. It was one-stop shopping with TRA. They gave us the total package, specific engineering for the project, design layout and support the whole way."
The result is a solar array that hugs the south wall of the building, blends in well with the modern design of the building and also adheres to the specific zoning requirements of the area. The resulting 11 KW of power adds to the panels on the roof and together they contribute approximately 30% of the electric needs of the theater.
Fiveboro is now using this method of attaching solar panels using TRA Snow and Sun's Awning solution on one of their next projects - the Parks Department technical building on Randall's located on the East River, between East Harlem, the South Bronx and Astoria, Queens. That project should be completed before year's end.
Owner Bret Heilig of Fiveboro Solar is an NABCEP certified PV Installer, a Licensed Electrician in the State of California, and a proud alumnus of Solar Energy International. He has participated in the construction of over 5 MW of PV since 2005, of which he designed over 1 MW himself. Contact Fiveboro Solar at (855) 348 - 2676. http://www.fiveborosolar.com
TRA Snow and Sun, Inc., located in American Fork, Utah, offers Roof Snow Retention Devices, Solar Mounting Systems and Roof Flashing Solutions. They supply to all types of customers, from the individual homeowner to the big developer and free engineered designs of all their systems. For more information call Jake Owsley at TRA Snow and Sun at 800-606-8980, jowsley(at)trasnowadsun.com, or visit http://trasnowandsun.com/ solar-mounting/
Featured Product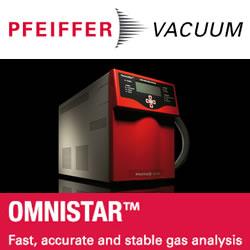 The Pfeiffer Vacuum OmniStar benchtop analysis system offers you a compact footprint, powerful software and Ethernet connectivity. It's the optimum solution for many real-time gas analysis applications. With the OmniStar, Pfeiffer Vacuum offers you a complete solution for gas analysis, in chemical processes, semiconductor industry, metallurgy, fermentation, catalysis, laser technology and environmental analysis. The turnkey OmniStar gas analysis system consists of heated, temperature-regulated gas inlet system, Quadrupole mass spectrometer, a dry diaphragm vacuum pump and HiPace turbopump. Unlike competing methods such as FTIR, OmniStar is suitable for qualitative and quantitative analysis of most gases.