Technology to help support renewables integration and system reliability by reducing power consumption during peak periods
SANTA BARBARA, Calif.-Ice Energy today announced it has been awarded sixteen contracts from Southern California Edison (SCE) to provide 25.6 megawatts of behind-the-meter thermal energy storage using Ice Energy's proprietary Ice Bear system.

Ice Energy was one of three providers selected in the behind-the-meter energy storage category, which was part of an energy storage procurement by SCE that was significantly larger than the minimum mandated by the California Public Utility Commission (CPUC). SCE is one of the nation's leaders in renewable energy and the primary electricity supply company for much of Southern California.
The contract resulted from an open and competitive process under SCE's Local Capacity Requirements (LCR) RFO. The goals of the LCR RFO and California's Storage Act Mandates are to optimize grid reliability, support renewables integration to meet the 2020 portfolio standards, and support the goal of reducing greenhouse gas emissions to 20 percent of 1990 levels by 2050.
"SCE's focus on renewable energy is critical to helping meet California's long-term goals, and Ice Energy is proud to be part of the solution with these contracts," said Mike Hopkins, CEO of Ice Energy, the leading provider of distributed thermal energy storage technology. "Using ice for energy storage is not new, we've just made it distributed, efficient and cost-effective. The direct-expansion AC technology is robust and proven, which is important because SCE and other utilities require zero risk for their customers."
In 2013, 22 percent of the power SCE delivered came from renewable sources, compared to 15 percent for other power companies in the state. The utility is on track to meet the state's goal of 33 percent, and procuring energy storage helps them meet those targets while maintaining a robust and reliable grid.
Ice Energy's product, the Ice Bear, attaches to one or more standard 5-20 ton commercial AC units. The Ice Bear freezes ice at night when demand for power is low, capacity is abundant and increasingly sourced from renewables such as wind power. Then during the day, stored ice is used to provide cooling, instead of the power-intensive AC compressor. Ice Bears are deployed in smart-grid enabled, megawatt-scale fleets, and each Ice Bear can reduce harmful CO2 emissions by up to 10 tons per year. Installation is as quick as deploying a standard AC system.
"Ice Bears add peak capacity to the grid, reduce and often eliminate the need for feeder and other distribution system upgrades, improve grid reliability and reduce electricity costs," Hopkins said. "What's special about our patented design and engineering is the efficiency and cost. It's energy storage at the lowest cost possible with extraordinary reliability."
Almost 1,000 Ice Bear units are already installed in more than 40 different utility service territories nationwide.
About Ice Energy
Ice Energy delivers cost-effective, reliable and highly efficient distributed energy storage and smart grid solutions to utilities using direct-expansion AC technology. The company's smart grid platform integrates distributed energy storage technology with an advanced software infrastructure and intelligent two-way control to provide utilities with a fully dispatchable grid asset that can be rapidly deployed at any scale. To learn more about Ice Energy, please visit www.ice-energy.com.
Featured Product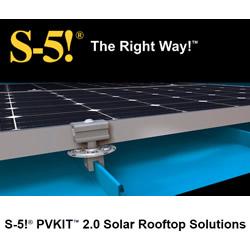 The concept of combining PV arrays with standing seam metal roofing is growing-for good reasons. Metal roofs have a life expectancy of more than 40 years. Shouldn't the mounting system last as long? With S-5! zero-penetration attachment technology and PVKIT 2.0, the solarized metal roof is the most sustainable system available -and without compromising roof warranties! PVKIT 2.0 is the also the best solution for attaching PV modules directly to any exposed fastener metal roof.