Brazil's biopower installed capacity will rise from 11.51 Gigawatts (GW) in 2013 to an estimated 25.22 GW by 2025
LONDON, UK (GlobalData), 12 November 2014 - Brazil's biopower installed capacity will rise from 11.51 Gigawatts (GW) in 2013 to an estimated 17.10 GW by 2018, when it will overtake the US as the world's leading biopower market, according to research and consulting firm GlobalData.

The company's report* states that the US had the world's largest biopower installed capacity in 2013, with 15.43 GW, but this will only rise to 16.49 GW by 2018. The country will witness slow growth due to its large existing capacity, which has saturated the market.
Harshavardhan Reddy Nagatham, GlobalData's Analyst covering Alternative Energy, says: "A major share of the US' biopower capacity was installed in the 1980s and 1990s, meaning the country already had 12.82 GW by 2006, while Brazil only had 3.59 GW by that time.
"The nascent Brazilian market is being driven by the government, which has made it necessary for local utility service providers to obtain at least 2 GW of installed biomass capacity through auctions annually, for ten years from 2007."
The analyst notes that while there is a possibility of feedstock supply interruptions due to increased deforestation in certain areas, the rise in sugarcane plantations is expected to compensate for this.
Nagatham explains: "The abundance of sugarcane in Brazil makes the installation of biomass technology a very viable option for power generation.
"Biomass projects will also generate electricity from both sugarcane waste and non-food energy crops, such as eucalyptus and pine trees."
The analyst warns that biopower faces competition from other sectors, such as hydropower, natural gas and wind.
Nagatham continues: "The biggest challenge to bioenergy will be Brazilian utility companies' inclination towards wind power and the large drop in wind energy capital expenditure.
"Furthermore, Brazilian Development Bank, which provides low-interest loans for renewable projects, does not give biomass ventures free access to finance, and instead shows preference towards wind power."
Despite the increasing presence of other technologies in Brazil, GlobalData forecasts a positive outlook for biopower, with an installed capacity of 25.22 GW by 2025.
ABOUT GLOBALDATA
GlobalData is a leading global research and consulting firm offering advanced analytics to help clients make better, more informed decisions every day. Our research and analysis is based on the expert knowledge of over 700 qualified business analysts and 25,000 interviews conducted with industry insiders every year, enabling us to offer the most relevant, reliable and actionable strategic business intelligence available for a wide range of industries.
Featured Product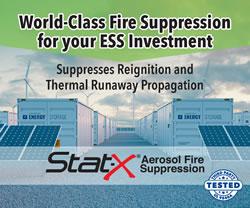 Stat-X® condensed aerosol fire suppression is a solution for energy storage systems (ESS) and battery energy storage systems (BESS) applications. Our Stat-X condensed aerosol fire extinguishing product was tested for efficacy in suppressing li-ion battery fires. It was found that the product successfully extinguished single and double cell battery fires. This testing was conducted in parallel with a large battery fire testing program on behalf of a large energy storage company.