Increases Operating Fleet to 10 Facilities
SAN FRANCISCO, Nov. 12, 2014 -- Increasing its operating capacity, Pattern Energy Group Inc. (Nasdaq:PEGI) (TSX:PEG) ("Pattern Energy"), today announced it has closed the acquisition of 147 megawatts (MW) of owned interest in the 182 MW Panhandle 2 Wind facility from Pattern Energy Group LP ("Pattern Development") for a total cash consideration of US$123.8 million. The Panhandle 2 Wind facility, located in Carson County, Texas, is now fully operational.

Acquisition Highlights
-- Adds 147 MW to operating capacity
-- Project utilizes Siemens 2.3 MW turbines and is secured with a long-term contract for approximately 80% of its output
-- Acquired at a 9-10x run rate cash available for distribution ("CAFD") [1] multiple
-- Located in one of the strongest wind resources in the country
-- Acquisition to be funded from available cash and credit facilities
-- Both Panhandle 1 and 2 projects totaling 400 MW now fully operational
"Panhandle 2 was completed on schedule and on budget, growing our operating fleet to 10 wind facilities with an 11th project on track to be completed this quarter," said Mike Garland, President and CEO of Pattern Energy. "This facility is an excellent addition to our portfolio and will increase our revenue and cash available for distribution. We now have two premier wind facilities in the Panhandle, located on one of the best wind sites in the U.S., with a net capacity factor of approximately 50%."
Panhandle 2 Wind consists of 79 Siemens 2.3 MW wind turbines.
Approximately 80% of the expected output is contracted under a long-term energy price hedge, with an A-/Baa2 credit-rated affiliate of Morgan Stanley, with the balance sold at ERCOT's spot market prices.
The Panhandle 2 Wind project created more than 200 construction jobs and 9 permanent operations and maintenance positions. The facility will generate clean, renewable electricity for more than 56,000 Texas homes each year without using any of the region's limited water supplies, according to statistics from the U.S. Energy Information Agency.
Construction of the project was managed by Mortenson Construction.
In July, Pattern Energy acquired 172 MW of Panhandle 1 Wind, a 218 MW facility adjacent to Panhandle 2 Wind. Together, the two wind power facilities total 400 MW in the Texas Panhandle region.
[1] This forward looking measure of run-rate CAFD is a non-GAAP measure that cannot be reconciled to net cash provided by operating activities as the most directly comparable GAAP financial measure without unreasonable effort.
A description of the adjustments to determine CAFD can be found on page 71 of Pattern Energy's 2013 Annual Report on Form 10-K.
Featured Product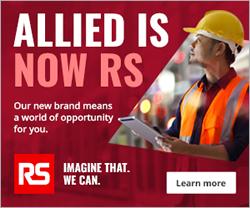 Moxa is a leader in edge connectivity, industrial computing, and network infrastructure solutions for enabling connectivity for the Industrial Internet of Things. With over 30 years of industry experience and 65 million devices connected worldwide, Moxa has a distribution and service network to serve customers in more than 80 countries. Now at Allied-find over 1,000 products from Ethernet switches, protocol converters, routers, and more. Allied Electronics & Automation, part of RS Group & Automation, part of RS Group is an authorized distributor of Moxa.