Investment to develop production technology, and expand commercial activities for organic photovoltaics
Eight19, the leading developer of low cost organic photovoltaics (OPV) technology capable of delivering flexible and light-weight solar panels in high volume, is pleased to announce it has received a further £1m of investment. The new equity finance has been led by IP Group plc and one of its managed funds, with existing investors also supporting the round. The additional financing will be used to further develop Eight19's proprietary production processes in readiness for volume manufacture and to expand its commercial activities.

Eight19 has recently demonstrated flexible, light-weight solar modules based on its proprietary low cost architecture, fabricated using its innovative roll-to-roll production process. Eight19's technology provides affordable power for autonomous electronics and high-volume off-grid consumer and industrial applications. The Company is working closely with a number of customers and partners to integrate OPV into their products and bring the technology to market.
Chris Harris, Chairman of Eight19, commented: "We are naturally delighted at the support shown by IP Group and our existing investors who share our view of the market potential for OPV and the strength of our proprietary technology. The additional financing will allow us to accelerate development of our manufacturing process technology, as well as to better support our customers by strengthening our commercial organisation."
Robert Trezona, Head of Cleantech at IP Group, who will join the Board of the Company, said: "We are very impressed with the significant progress Eight19 has made in developing its proprietary production technology and in demonstrating excellent performance under low light conditions. Eight19's technology has the ability to enable a range of new market opportunities in off-grid solar and energy harvesting applications. I look forward to working closely with the Company."
Featured Product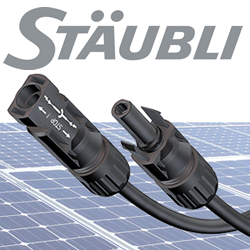 ​Stäubli Electrical Connectors are used on more than 300 GW, over 50% of the PV capacity worldwide. The MC4 family of UL and TUV listed products include connectors, in-line fuses, branch connectors, cable assembly and more.