The company will be exhibiting a variety of Merlin-based advanced technology modules at Waaree's booth in Hall 6, Stall C02 from November 18 to November 20, 2014.
The Netherlands, 17 November 2014 - A new solar panel system for Defense Forces provides ballistic protection and is lighter and more portable than systems currently available. The PowerArmor unit from IDG Europe has low-reflectance solar panels protected by an anti-ballistic surface made in an exceptionally strong unidirectional fiber-reinforced composite.

The composite is based on an ultra-high molecular weight polyethylene fiber (UHMWPE) produced by DSM Dyneema and branded as Dyneema, the world's strongest fiber. It replaces the aluminum normally used for portable solar panels, which provides no ballistic protection. IDG says this is the first time that solar panels have been given such a high level of ballistic protection. Panels made in Dyneema also weigh around 20% less than aluminum panels of the same thickness.
DSM Dyneema and IDG Europe cooperated closely in IDG's development of the dual-purpose system, intended to power electrical and electronic equipment used by armed forces in the field. The combination of ultra-light, low profile (anti-glare) solar panels and anti-ballistic panels with Dyneema® results in a system capable of providing energy and protection ranging from fragmentation to high-power rifle ammunition.
IDG Europe says that the switch from aluminum for the general-purpose stand-alone solar panels also meets calls from the market for lightweight units with high environmental resistance.
"As Defense Forces continue to carry more and more electronic systems into dangerous, inhospitable and isolated places, the need to keep portable electronic devices operable at all times in hostile environments is essential," says Göran Johnson, CEO at IDG Europe. "With PowerArmor, we think that we have a winning combination of solar panels that supply power and provide protection. We believe its chances are very good, especially as the two individual products were already being independently considered—and in some cases used in practice—by various Special Forces around the world."
"Dyneema offers the lightest armor protection materials in the market," says David Cordova, Vice President Business Development for DSM Dyneema - Life Protection. "The combination of Dyneema with the innovative low-glare IDG solar panels provides a unique value proposition to military personnel."
IDG Europe introduced the PowerArmor concept at IESMA 2014, the conference and exhibition on Innovative Energy Solutions for Military Applications that took place in Vilnius, Lithuania, on November 12-14. IEASMA 2014 is organized by the NATO Energy Security Centre of Excellence, and the DELTA State Military Scientific Technical Center of the Ministry of Economy and Sustainable Development of Georgia.
About DSM Dyneema
DSM Dyneema is the inventor and manufacturer of Ultra High Molecular Weight PolyEthylene (UHMWPE) fiber branded as Dyneema, the world's strongest fiber™. Dyneema offers maximum strength combined with minimum weight. It is up to 15 times stronger than quality steel and up to 40% stronger than aramid fibers, both on weight for weight basis. Dyneema fiber floats on water and is extremely durable and resistant to moisture, UV light and chemicals. The applications are therefore more or less unlimited. Dyneema is an important component in ropes, cables and nets in the fishing, shipping and offshore industries. Dyneema is also used in safety gloves for the metalworking industry and in fine yarns for applications in sporting goods and the medical sector. In addition, Dyneema is also used in bullet resistant armor and clothing for police and military personnel.
UHMWPE fiber from DSM Dyneema is produced in Heerlen (The Netherlands) and in Greenville, North Carolina (U.S.A.). DSM Dyneema is also a partner in a high modulus polyethylene (HMPE) manufacturing joint venture in Japan. Further information on DSM Dyneema is available at www.dyneema.com.
DSM - Bright Science. Brighter Living.
Royal DSM is a global science-based company active in health, nutrition and materials. By connecting its unique competences in Life Sciences and Materials Sciences DSM is driving economic prosperity, environmental progress and social advances to create sustainable value for all stakeholders simultaneously. DSM delivers innovative solutions that nourish, protect and improve performance in global markets such as food and dietary supplements, personal care, feed, medical devices, automotive, paints, electrical and electronics, life protection, alternative energy and bio-based materials. DSM's 24,500 employees deliver annual net sales of around €10 billion. The company is listed on NYSE Euronext. More information can be found at www.dsm.com.
Featured Product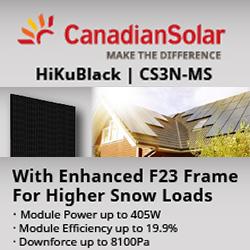 Aesthetic appearance for residential systems: With black backsheet & black frame, Power range 380 ~ 405 W, Low power loss in cell connection. Enhanced reliability: · Low temperature coefficient (Pmax): -0.34 % / °C, LID LeTID less than 2.0%, Lower hot spot temperature, Better shading tolerance.