To help with development of future geothermal resources in the area.
SALT LAKE CITY, UT (Nov. 24, 2014) – DOSECC Exploration Services, LLC (DES) is drilling six test holes in Pagosa Springs, Colo., to help with development of future geothermal resources in the area.

The Pagosa Verde project consists of one 2,000-foot-deep wells and five 1,000-foot-deep holes on private and schools lands near Pagosa Springs, about 60 miles east of Durango in southern Colorado. Developers believe temperatures of up to 180 degrees will be measured from the holes. Exploration hole drilling is scheduled to be completed by year's end.
"Geothermal is a critical energy source to be explored and developed, especially as climate change and global warming become more of an issue," said Dennis Nielson, DES chief executive officer. "We have the equipment and expertise to quickly, efficiently, and cost-effectively assist Pagosa Springs in this important project."
Pagosa Springs is one of several projects DES is undertaking. In an ambitious and challenging move, DES is designing and building a drilling system that will map the bedrock beneath the Antarctic ice sheet and search for the oldest ice. Teams will drill through 1 1/2 miles of ice to reach bedrock. Subsequent optical logging is expected to reveal if the ice contains volcanic ash, gas bubbles, and other materials that will help the scientific community gauge what the Earth's climate was like a million years ago – and how it's changed since. Project details can be found at http://bit.ly/1lX6hKU.
The company is also overseeing and conducting projects in Indonesia, Africa, and other parts of the United States.
About DOSECC Exploration Services
DOSECC Exploration Services (DES) provides a range of drilling services to assist clients with scientific research, geothermal and mineral exploration projects worldwide. We specialize in the collection of high-quality continuous core samples and can operate in both land and shallow marine-based settings. Our experience, equipment and innovative abilities allow us to tackle projects that have unique sampling requirements in remote and challenging environments. We honor our commitment to safety, the environment, our clients and our people. For more information, visit www.dosecc-ex.com.
Featured Product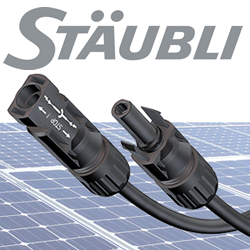 ​Stäubli Electrical Connectors are used on more than 300 GW, over 50% of the PV capacity worldwide. The MC4 family of UL and TUV listed products include connectors, in-line fuses, branch connectors, cable assembly and more.