Market-leading 48V module now includes exclusive DuraBlue Advanced Shock and Vibration Technology
SAN DIEGO, Nov. 20, 2014 -- Maxwell Technologies, Inc. (Nasdaq: MXWL), a leading developer and manufacturer of ultracapacitor-based energy storage and power delivery solutions, today announced an enhancement to its industry-leading 48V module product, which now includes the benefits of the company's new DuraBlue™ Advanced Shock and Vibration Cell Technology.

The new module has been tested to meet and exceed the industry's highest shock (IEC 60068-2-27 and 2-29) and vibration (ISO 16750-3, Tables 12 and 14) ratings for ultracapacitor modules, exceeding the most demanding testing requirements for mass transportation applications, such as in hybrid buses, particularly in China. The enhanced module has been validated through several months of sampling with selected customers and is immediately available.
Maxwell's DuraBlue Advanced Shock and Vibration Technology is the company's latest advance in ultracapacitor reliability and performance. It combines Maxwell's unique dry electrode formation and manufacturing process with a patent-pending cell structure design, resulting in a significant increase in vibration immunity of as much as 300 percent and in shock immunity of as much as 400 percent versus most comparable competitive offerings. The new module will offer advanced capacitor management system (CMS) options for improved reliability, as well as safety enhancements, which include a redundant over-voltage alarm, while maintaining the existing product life characteristics.
"Ultracapacitors' rapid charge and discharge characteristics, long operating lifetime, wide operational temperature range and ruggedness make them an ideal energy storage solution for hybrid buses and other vehicles that employ braking energy recuperation systems," said Dr. Franz Fink, Maxwell's president and CEO. "Bringing the entire module system to DuraBlue standards is a demonstration of our commitment to providing customers with the most advanced features and benefits ultracapacitor technology can offer."
Maxwell's proprietary, solvent-free, dry electrode fabrication process gives the cells in the 48V module with DuraBlue Advanced Shock and Vibration Technology superior cohesion and adhesion properties, ensuring that both the cells and the module remain intact in the most demanding operating environments. With a significant increase in cell ruggedness, the 48V module with DuraBlue Shock and Vibration Technology continues
Maxwell's history of ultracapacitor innovation, validated by 20 years of market leadership and innovation, more than $100 million invested in research and development, and more than 100 issued and pending U.S. patents.
Additional Maxwell Technologies information:
Maxwell Technologies on Twitter: https://twitter.com/Maxwell_Tech
Maxwell Technologies on Facebook: http://on.fb.me/10e2nPA
Maxwell Technologies on LinkedIn: http://linkd.in/Z4737Y
Maxwell Technologies on Google+: https://plus.google.com/+MaxwellTech/
More information on ultracapacitors: http://www.maxwell.com/ultracapacitors
About Maxwell: Maxwell is a global leader in the development and manufacture of innovative, cost-effective energy storage and power delivery solutions. Our ultracapacitor products provide safe and reliable power solutions for applications in consumer and industrial electronics, transportation and telecommunications. Our high-voltage grading and coupling capacitors help to ensure the safety and reliability of electric utility infrastructure and other applications involving transport, distribution and measurement of high-voltage electrical energy. Our radiation-mitigated microelectronic products include power modules, memory modules and single board computers that incorporate powerful commercial silicon for superior performance and high reliability in aerospace applications. For more information, please visit our website: www.maxwell.com.
Featured Product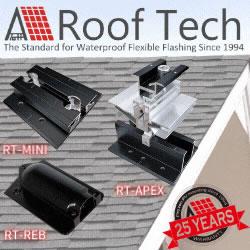 Now Roof Tech brings you the most innovative, watertight mounting systems ever developed for solar photovoltaic systems. Designed and manufactured exclusively for us by Japan's longtime leader in roofing technologies, Roof Tech products are 100% code-compliant and offer fast, simple installation and huge savings on shipping costs due to their compact, rail-less design. Learn more about our full line of versatile PV mounting solutions now available for residential installations. The next generation in rooftop solar mounting solutions."