College's Technology Division Partners with Advanced Transportation & Renewable Energy (ATRE) and True South Renewables to Fill Critical Shortage of Electrical Field Service Technicians
NORWALK, Calif., Dec. 3, 2014 – A first-of-its kind training program to certify military veterans and other qualified applicants to meet the growing need for electrical field service technicians (EFSTs) that maintain the country's fast-growing solar power and electric vehicle infrastructure has been launched by Cerritos College in Norwalk, Calif.

The program is the result of a partnership among Cerritos College's Technology Division, the Advanced Transportation & Renewable Energy (ATRE) sector, a California Community Colleges workforce program, and True South Renewables, Inc., the largest independent solar operations and maintenance provider in the U.S. The five-month college certification program will teach students how to maintain and repair solar photovoltaic (PV) systems, electric vehicle (EV) charging stations and equipment needing general maintenance. Many top solar companies, including True South Renewables, have jobs waiting for graduates of the program.
Cerritos College and ATRE worked closely with True South Renewables to develop the extensive curriculum for this unique program.
"This is an important initiative to provide military personnel who were electricians in the service to receive certification in a high-paying, growing civilian field," said Rue Phillips, CEO of True South Renewables based in Huntington Beach, Calif. "In addition, these graduates are needed. Few outside the solar power industry are aware of the volume of operations and maintenance work required to ensure the optimum performance of large solar fields and photovoltaic systems on commercial and residential rooftops."
Classes start Jan. 12, 2015 at the Cerritos College campus and applications are now being accepted. Applicants must be experienced electricians with accumulated service knowledge and skills in the electronics/electrician and IT sectors. Qualified U.S. veterans are being prioritized for entry and will be able to secure financial support upon acceptance.
"We are proud to offer this program to the community, enabling qualified veterans, the unemployed and under-employed to receive training that fills a critical shortage of technicians in the trillion-dollar solar and EV markets," said Jannet Malig, ATRE regional director based at Cerritos College. "Graduates of the program will be introduced to industry leaders with the expectation that we will achieve 99% job placement for graduating students."
The EFST program at Cerritos College will serve as a pilot for implementing the courses in community colleges throughout California and across the nation, according to Peter Davis, statewide director of the ATRE.
"The EFST program upgrades the skill sets of the workforce necessary to meet the growing employment demands of renewable energy technology firms," Davis said.
Program graduates will also receive a certificate of achievement in New Product Development from the Chancellor's office of California Community Colleges. The program is part of a statewide commitment to "Doing What Matters."
Upon completion of the program, graduates will be certified within three modules: Solar Inverter Maintenance and Repair, Electrical Vehicle Service Equipment (EVSE) Maintenance and Repair, and Solar and EVSE Related Instrumentation and IT Products.
Typical job titles for graduates include:
· Solar O&M Technician Electronics Repair Technician
· Solar PV Technician
· Electric Vehicle Service Equipment Technician
· Solar monitoring equipment Technician
· Test Equipment Technician
Starting annual salaries can range up to $75,000, according to ATRE.
Qualified candidates interested in applying for the EFST program should contact Jannet Malig of the ATRE at jmalig@cerritos.edu.
About Cerritos College's Technology Division
Cerritos College serves as a comprehensive community college for southeastern Los Angeles County. Communities within the college's district include Artesia, Bellflower, Cerritos, Downey, Hawaiian Gardens, La Mirada, Norwalk, and portions of Bell Gardens, Lakewood, Long Beach, Santa Fe Springs and South Gate. Cerritos College offers degrees and certificates in more than 180 areas of study in nine divisions. Annually, more than 1,200 students successfully complete their course of studies, and enrollment currently averages 23,000 students. The technology division teaches students a variety of technical subjects including New Product Development. Visit Cerritos College online at http://www.cerritos.edu/ and http://cms.cerritos.edu/technology/.
About Advanced Transportation and Renewable Energy (ATRE)
ATRE represents an array of clean energy technologies that form a critical part of California's strategy for reducing its climate change impact and its dependency on foreign energy, as well as growing a robust green economy by helping California's businesses remain competitive in a global market. For more information, please visit http://www.atreeducation.org/
About True South Renewables, Inc.
True South Renewables, Inc. (TSR) is the leading independent solar O&M services provider in North America and is a wholly owned subsidiary of Solarrus Corporation. TSR has a distinguished reputation for safety and performance when it comes to the delivery of O&M services. In addition to providing service and maintenance for utility-scale, commercial, and residential solar installations, TSR also has considerable experience with the development, design, installation, and maintenance of electric vehicle service equipment (EVSE) and battery energy storage systems (BESS). By incorporating a nationwide footprint and proven O&M protocols, TSR not only brings experience and confidence to customers' projects, but also delivers services that remain an asset for the entire lifetime of the projects. For more information about True South Renewables, visit www.TrueSouthRenewables.com.
Featured Product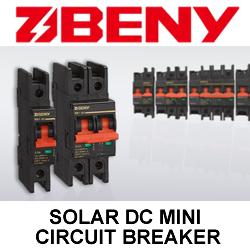 The BB1-63 modular miniature circuit-breakers can be used in solar DC circuits up to 1200 VDC (4-poles execution). Application in solar DC circuits, battery energy storage systems and UPS. Arc flash barrier design keeps solar equipment more safe and reliable. For DC circuit over-current protection.