Peck Solar Installs the 6 kW array
Barre, VT

Business leaders, elected officials, the SunCommon Staff, their 1st customer, and their 1000th customer gathered on December 2, 2014 to celebrate the company's 1000th residential solar installation.
"SunCommon launched 2 years ago with a mission to tear down the barriers to solar, making it easy and affordable for all Vermonter", said Duane Peterson, co-founder.
The installation took place on a brisk, yet sun-filled 20° day at the home of Stephen & Micki Woodruff, the 1000th SunCommon residential customer.
Speakers included James Moore, co-founder of SunCommon, Jeff Peck, President of Peck Electric, and Graham Rae, EcoFasten Solar Project Manager.
Peck Electric Solar Division handles all SunCommon installs, and this one was no different.
GreenFasten™, a patented watertight solar roof mount system from industry leader EcoFasten Solar plays an integral part in mounting the panels to the composition shingle roof.
Patricia Moulton, Secretary of the Vermont Agency of Commerce and Community Development also spoke, and noted that the solar industry is helping the state to become energy independent, has created many jobs, and has saved Vermont residents money.
Vermont holds the title as the state with the most solar jobs per capita.
Featured Product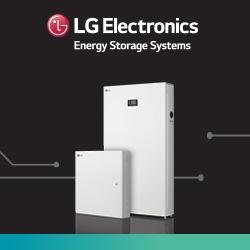 Meet LG Electronics Home 8 Energy Storage System (ESS), a whole home battery backup solution built with installers and their homeowner customers in mind. The ready-to-deploy Home 8 features just one SKU and a modular assembly for fast installation. It can be AC-coupled or solar-powered and is engineered with a grid-connected inverter, four battery modules, and a Smart Energy Box featuring a 7'' LCD touchscreen with commissioning wizard for easy setup. Each Home 8 unit can store up to 14.4 kWh of usable power, helping homeowners gain pure independence from the grid. Plus, installers can connect up to four units, bringing customers up to 57.6 kWh of total backup power-all easily managed and monitored through intuitive mobile apps.