SEE THIS REVOLUTIONARY INNOVATION AT THE CLEAN TECH BUSINESS DAY IN ROTTERDAM
DECEMER 4TH, 2014

EINDHOVEN - Torque Wind Turbine is presenting the world's most advanced small wind turbine at the Clean Tech Business Day on December 9th 2014 in Rotterdam, The Netherlands. The driven scale model prototype provides interested customers, investors, part and generator manufacturers, distributors and installers, and of course the media, the opportunity to experience how this new wind turbine will perform.
Product Features
What makes the Torque Wind Turbine so special is that it reaches a high starting torque immediately at very low wind speeds, produces a lot of energy from low wind speeds, and reacts instantly on wind gusts and wind direction changes. The output starts at 2 Beaufort, continues all the way through to high wind speeds with smooth balanced rotation. Energy production remains effective and efficient in inclement weather such as snow and rain storms. The output on an annual basis is superior to other wind turbine designs with average wind speeds below 4 Beaufort. The wind energy conversion can be controlled stepless between 100% and 0%, ensuring that an overload of the grid or overcapacity on the grid is not an issue. 0% conversion mode allows for maintenance to be performed safely, even when there is wind.
Application and performance
The Torque Wind Turbine design offers an excellent wind speed performance making both inland and seaside locations viable installation locations. In combination with solar cell energy, year round electricity production can be achieved, making it a complete solution for farmers, telecom, industrial areas, villages and small isolated communities. Even electric vehicles can become more interesting due to the lower energy costs.
Using one or more Torque Wind Turbines and a back-up system, gives the opportunity to become independent from the public grid network. No more concerns about energy prices, no dependency on foreign countries for fossil fuels and knowing the future cost reductions are guaranteed.
The payback time is dependent on local wind activity, current cost for electricity, lower cost for the public grid electricity connection, shipment cost, groundwork cost, permit cost and installation cost.
Installation and service
The big advantage of the design is the relative low height. The height is between 10 to 30 meters, in some case 40 meter. The complete wind turbine is like a plug and play concept. With basic training a professional electrician can install the wind turbine and connect it to the electricity network. The electronic devices provided are proven technologies from well-known manufactures with certification for the network specifics in each country worldwide. Compared to big wind turbines the installation time and costs are much lower due to the work that is done by local qualified persons or electricians.
The Torque Wind Turbine is incredibly convenient to maintain. The wind turbine is conceived to not require any service. The bearings are maintenance free and there is no gearbox or any other part that needs a regular oil change or lubrication.
Deliveries of the Torque Wind Turbine begin 2016. Customers can already reserve their wind turbine at the company.
ABOUT TORQUE WIND TURBINE
Torque Wind Turbine's goal is to accelerate the world's transition to renewable energy with an increasing range of affordable wind turbines. The Torque Wind Turbine company develops wind turbines and wind turbine components and is cooperating with specialized companies around the world, for part manufacturing, distribution, installation and service. Via a global partner network of local distributor and installers, a fast widespread sales and installation base can be achieved.
A patent is applied for protection against copiers and to have access to large markets worldwide.
More information on: www.TorqueWindTurbine.com
Featured Product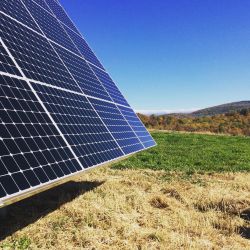 Designed and manufactured in the U.S., the AllEarth Solar Tracker is a complete grid-tied, dual-axis solar electric system that produces up to 45% more electricity than fixed systems. The tracker uses GPS and wireless technology to follow the sun throughout the day for optimal energy production. It has an industry-leading 10 year warranty and 120 mph wind rating, superior snow shedding, and automatic high wind protection. Its simple, durable design and complete system pallet simplifies costly procurement and installation time. Contact us about becoming a dealer partner or purchasing an AllEarth Solar Tracker.