Three installations completed and funded so far in $6.5 million deal for 25 facilities in New York and New Jersey
Superior, CO. December 08, 2014

Key Equipment Finance, one of the nation's largest bank-held equipment finance companies and an affiliate of KeyCorp (NYSE: KEY), today announced it is providing $6.5 million in solar equipment financing for Safeguard Storage Properties LLC ("Safeguard Self Storage"). The financing is enabling Safeguard Self Storage to go green at 25 facilities, where the solar installations will generate more than 2.6 megawatt hours of clean, renewable electricity and meet as much as 95% of some facilities' energy needs and nearly two-thirds of all the facilities' energy needs.
"With a total equipment financing solution, Safeguard Self Storage is installing 25 individual solar arrays and realizing a triple benefit of energy cost savings, positive environmental impact on local communities, and removal of the uncertainties of energy rate increases," said Doug Beebe, vice president, energy finance, for Key Equipment Finance. "Green energy financing enables green-minded businesses to reduce energy costs and participate in the clean energy economy."
The investment is expected to yield about $8.4 million (present value) in energy savings and $14.7 million cumulatively over the 25-year life of the systems.
"When Safeguard Self Storage decided to invest in green energy, we needed a reliable and flexible financing partner from conception to completion, and we've found that in Key Equipment Finance," said Mark B. Rinder, executive vice president and chief financial officer. "With Key's help, we are completing a significant investment in our company's future while preserving money for other important business needs."
Trinity Solar, a major retailer and installer of solar power systems in the northeastern United States, designed and is installing the systems, which should be completed in early 2015.
"By working with a knowledgeable financing partner such as Key Equipment Finance, we are able to provide turnkey energy solutions on a larger scale to green-minded companies like Safeguard Self Storage," said Tom Pollock, Trinity Solar president. "It is a team effort that makes solar installations a possibility for more businesses."
"We take pride in providing sustainable energy solutions to companies such as Safeguard Self Storage so the company can reduce its electric bills and its carbon footprints at the same time," said Jim DeCicco, vice president of commercial sales and finance for Trinity Solar.
Key Equipment Finance offers equipment financing and business leasing solutions to a range of business types and industries. Learn more at ww.keyequipmentfinance.com.
About Key Equipment Finance
Key Equipment Finance has been in the equipment finance business for 41 years and is one of the largest bank-based equipment finance providers in the U.S. The company provides tailored equipment lease and finance solutions for commercial clients and government entities. Through its manufacturer and vendor alliances unit, equipment finance programs are developed for manufacturers, distributors and resellers.
Key Equipment Finance's specialty finance group includes a lease capital markets team to support corporations looking to optimize risk and revenue, and a lender finance team, which provides structured facilities to various sectors of the specialty finance market. Headquartered outside Denver, Colorado, Key Equipment Finance manages $9.1 billion in assets and originates $4.3 billion of equipment financing annually. For more information, visit http://www.keyequipmentfinance.com.
About KeyCorp
KeyCorp (NYSE: KEY) was organized more than 160 years ago and is headquartered in Cleveland, Ohio. One of the nation's largest bank-based financial services companies, Key has assets of approximately $89.8 billion at Sept. 30, 2014. Key provides deposit, lending, cash management and investment services to individuals, small and medium-sized businesses under the name of KeyBank N.A. Key also provides a broad range of sophisticated corporate and investment banking products, such as merger and acquisition advice, public and private debt and equity, syndications and derivatives to middle market companies in selected industries throughout the United States under the KeyBanc Capital Markets trade name. For more information, visit https://www.key.com/. KeyBank is Member FDIC.
About Safeguard Storage Properties LLC
Safeguard Storage Properties LLC was organized 25 years ago and is headquartered in Atlanta, Georgia. Safeguard Self Storage operates 65 stores in seven states, has eight more stores in various stages of development/construction and operates the stores under the "Safeguard Self Storage" trade name. For more information, visit http://www.safeguardselfstorage.com.
About Trinity Solar
Trinity Solar began as a family-owned HVAC company in 1994 and transitioned in 2004 toward installing solar electric systems for homeowners and businesses. The organization now employs nearly 400 personnel in four states serving over 30,000 energy-related clients, with more than 7,000 solar electric systems totaling over 100 MW operating on the East Coast. Trinity is one of the largest solar companies in the country and is an industry leader that has received local and national recognition for its achievements in the energy industry. For more information about Trinity Solar visit http://www.Trinity-Solar.com.
Featured Product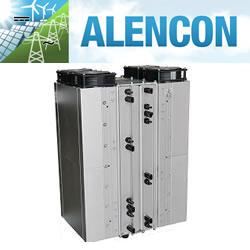 Alencon Systems is the premier manufacturer of high power, high voltage DC:DC optimizers for alternative energy applications including solar, battery energy storage, Microgrids, Fuel Cells and Electric Vehicle charging. Alencon's DC:DC converter offerings include the SPOT, BOSS and CUBE series DC:DC converters. The SPOT is a modular, uni-directional DC:DC solution ideal for solar applications. The BOSS is a modular, bi-directional unit for use with battery energy storage. The CUBE is a monolithic DC:DC converter which is available in both uni-directional and bi-directional modalities. Pictured above, is the Alencon SPOT.