EcoFasten Solar and Sister company Alpine SnowGuards are looking for a talented CAD Designer to join our rapidly growing team. This position will be primarily responsible for developing detailed technical drawings and supplemental product documentation in 2D and/or 3D using CAD equipment.
OTHER ESSENTIAL DUTIES AND RESPONSIBILITIES:

Produce cut sheets, production drawings, assembly drawings, specifications, and install instructions.
Lay out and draw schematic, orthographic, or angle views to depict functional relationships of component product parts.
Animate drawings to depict installation instructions for individual products as assigned.
Manipulate and move drawings and/or animations onto company websites.
Position instructions and comments onto drawings.
Facilitation and development of company webinars.
Modify and revise product designs as directed by Marketing Manager and Production Engineer.
File management- create and maintain file structure within a vaulted PDM system.
Job Requirements
REQUIRED:
Minimum 2-yr trade or technical school degree in CAD design and drafting.
Excellent working knowledge of CAD and Solidworks software; familiar with 3DVia Composer software.
Experience manipulating website data and drawings.
Experience in a manufacturing business preferred.
Excellent general computer and communication skills.
Motivated, self-starter, independent thinker, creative thinker.
Ability to multi-task well.
Visit us online at www.ecofastensolar.com and www.alpinesnowguards.com and see what we're all about.
Featured Product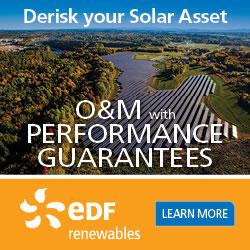 EDF Renewable Services offers the same innovative solutions that maximize the performance of our own 5.2 GW of installed projects. Because we're not an equipment manufacturer, our recommendations are transparent and data-driven. We cover the entire project lifecycle: from pre-commissioning support, through warranty and post warranty operation, to late stage and decommissioning.