Vivint Solar is the top residential solar installer in Maryland, according to Green Tech Media's third quarter 2014 leaderboard
FREDERICK, Md., Dec. 11, 2014 -- Vivint Solar (NYSE: VSLR), the second largest U.S. residential solar provider, was awarded Frederick County's Business Leader Award for 2014 by the Frederick County Business Development and Retention Board.

More than 220 partners, elected officials and business leaders attended the awards ceremony.
"Frederick County and Maryland are poised for solar success, the political environment, consumer demand and climate all contribute to this extremely favorable market," said Tad Thueson, District Manager at Vivint Solar.
Vivint Solar is the top residential solar installer in Maryland, according to Green Tech Media's third quarter 2014 leaderboard, and the company has installed more than 2,431 kW in Maryland since opening its first office in 2013.
The Frederick office on Wedgewood Boulevard opened in April of this year and has helped contribute to the 7,024 kW installed in Maryland in the first half of 2014. The Frederick office currently employs 60 people in various departments such as, installation, sales, and surveying. Vivint Solar employs about 240 individuals throughout the state of Maryland.
Vivint Solar currently operates in Arizona, California, Hawaii, Maryland, Massachusetts, New Jersey and New York.
About Vivint Solar
Vivint Solar is a leading provider of distributed solar energy – electricity generated by a solar energy system installed at a customer's location – to residential customers in the United States. Vivint Solar's customers pay little to no money upfront, receive significant savings relative to utility generated electricity and continue to benefit from guaranteed energy prices over the 20-year term of their contracts. Vivint Solar finances, designs, installs, monitors and services the solar energy systems to make things easy for its customers. For more information, visit www.vivintsolar.com or follow @VivintSolar.
Featured Product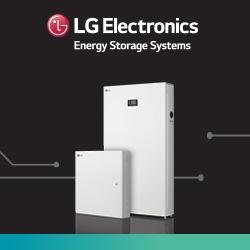 Meet LG Electronics Home 8 Energy Storage System (ESS), a whole home battery backup solution built with installers and their homeowner customers in mind. The ready-to-deploy Home 8 features just one SKU and a modular assembly for fast installation. It can be AC-coupled or solar-powered and is engineered with a grid-connected inverter, four battery modules, and a Smart Energy Box featuring a 7'' LCD touchscreen with commissioning wizard for easy setup. Each Home 8 unit can store up to 14.4 kWh of usable power, helping homeowners gain pure independence from the grid. Plus, installers can connect up to four units, bringing customers up to 57.6 kWh of total backup power-all easily managed and monitored through intuitive mobile apps.