Seasoned Financial Executive Brings Extensive Expertise in Renewable Development
Onyx Renewable Partners, a leader in flexible, creative solutions for the development, finance, construction and operation of large-scale renewable energy projects, today announced the appointment of Leanne M. Bell as chief financial officer. Bell brings over 30 years of experience to Onyx, with expertise in deal analysis and negotiations, risk management policies and investor relationships.

"We are thrilled to welcome Leanne to our team," said Matt Rosenblum, CEO of Onyx Renewable Partners. "Her extensive experience in energy financing will serve as a tremendous asset to Onyx's proven ability to implement creative financial structuring in the development of successful renewable energy projects."
Prior to joining Onyx, Bell served as chief financial officer and chief operating officer at Synergy Renewables, a global power development company. She previously served as managing director at both Tiger Infrastructure Partners and Lehman Brothers. Bell also led the Energy Financial Services Power Team as managing director at General Electric Co., where she originated $5 billion of equity volume from the utility and independent power sectors. As vice president at Prudential Power Funding Associates, Bell originated $1 billion of debt and lease volume.
"Onyx's unique ability to find financing solutions to seemingly insurmountable barriers in the implementation of renewable energy projects is unmatched in the industry," said Bell. "This reputation of Onyx's leadership team made my acceptance of this position a natural choice, as I eagerly join a world-class team of renewable energy experts."
Bell received her bachelor's degree in economics from Smith College in Massachusetts.
About Onyx
Onyx Renewable Partners, a portfolio company of global investment giant Blackstone, provides flexible, creative solutions for the development, finance, construction and operation of large-scale solar and wind projects in North America, as well as other types of renewable energy projects. With its industry experience and expertise in structured finance and development, coupled with its access to Blackstone's deep capital pool, Onyx is positioned to make an immediate impact on the penetration of renewables in North America.
Featured Product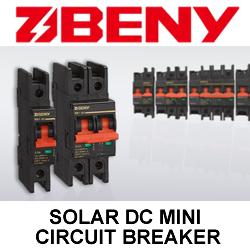 The BB1-63 modular miniature circuit-breakers can be used in solar DC circuits up to 1200 VDC (4-poles execution). Application in solar DC circuits, battery energy storage systems and UPS. Arc flash barrier design keeps solar equipment more safe and reliable. For DC circuit over-current protection.