SunEdison To Invest More Than $700 Million USD ---- TerraForm Power Intends To Acquire The Projects Once Interconnected Between 2015 and 2016
BELMONT, Calif., Dec. 15, 2014 -- SunEdison, Inc. (NYSE: SUNE), a leading solar technology manufacturer and provider of solar energy services, today announced that the National Energy Commission in Chile has awarded SunEdison a contract to supply 570 gigawatt hours of clean energy a year. To meet the demand, SunEdison will be investing more than $700 million USD to develop 350 megawatts of utility scale solar photovoltaic power plants throughout the country. SunEdison intends to add the plants to the call right list of TerraForm Power, Inc. (Nasdaq: TERP), a global owner and operator of renewable energy power plants.

Electricity generated by SunEdison's solar photovoltaic (PV) power plants is now 10%-25% lower cost – without subsidies or incentives of any kind – than electricity generated by fossil fuels in Chile. The National Energy Commission in Chile recently changed the bidding process used to award electricity supply contracts for the regulated market to create a more level playing field across different kinds of energy. With these changes, SunEdison was able to bid on and win supply contracts for 570 gigawatt hours of solar energy. SunEdison was awarded the provision of 190 gigawatt hours per year during the daytime block which begins in 2016 and a further provision of 380 gigawatt hours per during the daytime block which will become operational in 2017. The solar energy generated through SunEdison's 350 megawatts utility scale projects will be purchased by local energy commercialization companies under 15 year power purchase agreements.
"This project demonstrates SunEdison's ability to provide innovative energy solutions and compete on equal footing in the Chilean regulated market," stated Jose Perez, president of SunEdison for Europe, Middle East, Africa and Latin America. "Without incentives or subsidies of any kind, solar energy is 10-25% more affordable than imported fossil fuels in Chile. This bid represents a portfolio of strategic projects for SunEdison that will help diversify the energy mix of the Chilean grid and will help resolve the country's energy supply deficit using clean, sustainable renewable energy at competitive electricity prices." Perez added: "This award allows us to continue our steady growth as the leading renewable energy developer in Chile and Latin America."
"We are proud to partner with SunEdison to make this milestone event in energy provision in Chile a reality, and we're pleased to continue to expand our portfolio of renewable energy assets in high quality energy markets," said Carlos Domenech, president and chief executive officer of TerraForm Power. "As we acquire these power plants over the next several years, we will adding to our substantial base of facilities with high-quality, long-term power purchase agreements that are not affected by fossil fuel price changes. Contracts like these demonstrate the cost advantage that solar and wind generation has established over conventional generation in many markets. Lower oil prices will not reverse this advantage and we expect it to continue to drive rapid growth in the deployment of renewables."
About SunEdison
SunEdison is a global leader in transforming how energy is generated, distributed and owned. SunEdison manufactures solar technology and develops, finances, installs and operates distributed solar power plants, delivering predictably priced electricity and services to its residential, commercial, government and utility consumers. SunEdison also provides 24/7 asset management, monitoring and reporting services for hundreds of solar systems worldwide via the company's Renewable Operation Center (ROC). SunEdison has offices in North America, Europe, Latin America, Africa, India and Asia. SunEdison's common stock is listed on the New York Stock Exchanges under the symbol "SUNE." To learn more visit www.sunedison.com.
About TerraForm Power
TerraForm Power (NASDAQ: TERP) is a renewable energy leader that is changing how energy is generated, distributed and owned. TerraForm Power creates value for its investors by owning and operating renewable energy power plants. For more information about TerraForm Power, please visit: www.terraform.com.
Featured Product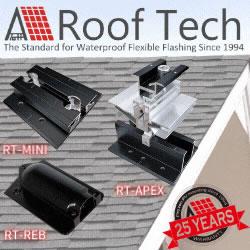 Now Roof Tech brings you the most innovative, watertight mounting systems ever developed for solar photovoltaic systems. Designed and manufactured exclusively for us by Japan's longtime leader in roofing technologies, Roof Tech products are 100% code-compliant and offer fast, simple installation and huge savings on shipping costs due to their compact, rail-less design. Learn more about our full line of versatile PV mounting solutions now available for residential installations. The next generation in rooftop solar mounting solutions."