Engages local industrial leaders Powerspeed Electrical & William Bain Holdings. Partners with Mosspatch Investments Zimbabwe
The meeco Group, a worldwide clean energy provider, is currently expanding its turnkey services and solutions to the Zimbabwean solar market. Involved in the country since early 2013, several important partnerships have been created and various solar projects are currently under development.

Via its local affiliated company, oursun Energy Zimbabwe, The meeco Group has begun to develop a cluster of 10MW grid connected solar photovoltaic sun2live projects in Harare and Melfort areas of Zimbabwe with plans to commission the first 5MW in April 2015. The project will see a 5MW plant being built on Utopia Farm located in the Melfort area Mashonaland East Province and the other 5 MW plant in Mount Hampden, Harare.
Each of the sun2live 5MW plants will be developed at a cost of up to US$8-8,5 million, will cover over approx. 15 hectares of land and are expected to generate a capacity of up to 8.454 MWh each of clean energy per year replacing up to 8.700 tons of CO2 emissions. This is in line meeco's daily commitment to conserving scarce natural resources and reducing carbon emissions globally.
The first project on Utopia Farm will be developed in conjunction with local investment company Mosspatch Investments. The meeco Group has agreed with Mosspatch, the owner of Utopia Farm, to design, build and operate in a first phase up to 5 MW solar PV plant on the premises of Utopia Farm. The equipment for the first 5MW plant is already in transit to Zimbabwe and is scheduled to arrive in January 2015 with construction expected to commence from February to April 2015 when the facility will be commissioned.
The teams in Zimbabwe as well as in Europe are currently working on finalising the design, engineering and execution planning to allow a successful implementation. Moreover, to safeguard the compliance with local guidelines, legal and administrative requirements, are as well a crucial part of the team's tasks. Indeed, oursun Energy is in the process of obtaining a license to be recognised as an IPP, Independent Power Producer, in Zimbabwe.
The meeco Group will be in charge of a great variety of responsibilities such as developing and designing the project, procurement of tier-one components as well as managing technical aspects and funding the project. meeco will provide to the Utopia Farm up to 77.000 CIS modules of German source and combine this with high quality European inverters and sub-structure such as from Fronius and Axial or other equivalent European companies.
oursun Energy, will act as local managing partner and serve as an additional bridge between meeco and the local authorities and companies. oursun Energy, the local meeco subsidiary, will be therefore the key acting and managing company to provide support regarding local development work, logistics as well as managerial and operational support.
In line with its global practise on maximising on local content, capacity building and in support of Zimbabwe ZIMASSSET programme, The meeco Group through oursun Energy Zimbabwe, has partnered for the realization of its clean energy projects with William Bain Holdings Limited and Powerspeed Electrical Limited as local development and supply partners. William Bain will among others support in assembling the steel mounting structures whilst Powerspeed will be the preferred contracting partner and supplier of locally available cabling products.
Simbarashe Mhuriro, Director at oursun Energy expresses: "2014 has been a great year for us and we are excited to kick off 2015 with the first 5 MW project. What started off as a vision to build own and operate 150MW in no larger than 5 MW plants which will be distributed across the country has now grown to 230MW over the next 5 years in 5 MW plants based in large part on current power deficit and the potential Zimbabwe's energy sector has shown us. This first real sized project is the first step towards achieving this vision and our commitment to the market".
Konstantin Wolf, Board Member at The meeco Group added furthermore: "We are very excited about Zimbabwe and believe in the prospects within its energy sector. As a company we have received tremendous support from the local authorities, such as the parent Ministry of Energy, ZETDC and ZERA, which has led to this first project. We are enthusiastic to support the local economy by supplying reliable energy resource, decreasing load shedding, reducing dependency on coal and increasing the use of renewable energy in the country".
About The meeco Group: The meeco Group was consolidated in 2000 and oriented its main focus towards the energy sector. With world headquarters located in Zug, Switzerland, the group currently has over 50 employees working across 4 continents. Thanks to a structured but flexible approach based on its core competencies, meeco has delivered over 320 MW of clean, renewable energy solutions across four continents. The meeco Group accomplishes its mission by providing project developers, investors, governments, and private businesses with the services necessary for timely financing, installation, and operation of clean energy assets.
Download pictures under: http://www.medienkontor.net/en/pressebilder/meeco...
For further information visit: www.meeco.net or www.meeco.net
Featured Product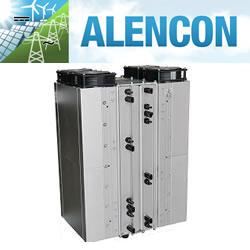 Alencon Systems is the premier manufacturer of high power, high voltage DC:DC optimizers for alternative energy applications including solar, battery energy storage, Microgrids, Fuel Cells and Electric Vehicle charging. Alencon's DC:DC converter offerings include the SPOT, BOSS and CUBE series DC:DC converters. The SPOT is a modular, uni-directional DC:DC solution ideal for solar applications. The BOSS is a modular, bi-directional unit for use with battery energy storage. The CUBE is a monolithic DC:DC converter which is available in both uni-directional and bi-directional modalities. Pictured above, is the Alencon SPOT.