Decision conflicts with pledges by U.S. and China to cooperate in fight against global warming
Washington, DC – The U.S. Department of Commerce today elected to impose unilateral tariffs on all solar panels assembled in China, including those with solar cells produced in Taiwan, the U.S., or any third country. The scope of the investigation is unprecedented in its reach.

The decision comes as the governments of the U.S. and China are engaged in negotiations to create a more stable trade environment for solar products, according to U.S. Trade Representative Michael Froman. The new tariffs also now await confirmation from the U.S. International Trade Commission.
In response to the decision, Jigar Shah, President of the Coalition for Affordable Solar Energy, released the following statement:
"Today's decision by the U.S. Department of Commerce to further tax solar panels from China, even those with key components made in the U.S., will undercut the growth of American solar jobs, hurt the American solar industry and make it more difficult for solar technology to compete against fossil fuels. These unnecessary taxes inhibit competition and put upward pressure on solar panel prices needed by U.S. homeowners, installers, and utilities.
"Taxing solar trade undermines both the spirit and efficacy of pledges made by the U.S. and China to work together in the battle against global warming. Hundreds of megawatts of solar projects remain unrealized due to deleterious solar trade barriers in the U.S., China, Europe and globally. Eliminating taxes in cleantech trade represents the lowest-hanging fruit in the global fight against climate change.
"After three years of unproductive trade wars, which have proliferated around the world, we urge the U.S. and China to accelerate negotiations to preserve competition in the global solar industry. Affordable solar panels are a good thing for the U.S., China, and the world. As the world's largest producers and consumers of energy, the U.S. and China share a unique responsibility to lead constructive and productive trade relations in the global solar industry. We look forward to continued progress in the weeks ahead."
For more information about CASE or to join the majority of the U.S. industry in opposition to additional solar tariffs, please visit us at www.affordablesolarusa.org.
Featured Product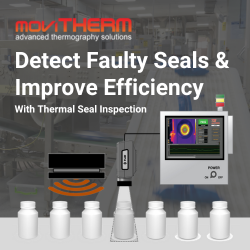 MoviTHERM's Thermal Seal Inspection (TSI) solution provides precise and reliable detection of defects in a variety of packaging types, including pouches, bags, blister packs, bottle caps, and more. By detecting defects in your packages, the TSI solution helps increase efficiency in your production line and ensures top-quality packaging is delivered to your customers every time. With state-of-the-art technology and an experienced team, MoviTHERM is dedicated to delivering accurate inspection solutions and peace of mind to its clients. Contact MoviTHERM today to learn more about their thermal seal inspection solution.