as the 2012 US AD and CVD tariffs against Chinese cells is on the preliminary review to be revised down on December 31, 2014, the ASP of module shipment to US is under great pressure.
Overall module price falls this week. A strong USD against the Euro drives down the module selling prices in USD term, especially the mono module price. In China, as per tradition, local firms are working on reducing their short-term payables before Lunar New Year; thereby the operating cash flow tightens. To ease up this pressure, some Chinese module manufacturers are dumping their products to the market, hence dragging prices down. In addition, as the 2012 US AD and CVD tariffs against Chinese cells is on the preliminary review to be revised down on December 31, 2014, the ASP of module shipment to US is under great pressure. As a result, worldwide module price is diminishing.

Overall cell price is also deteriorating this week. Affected by the same behavior aforementioned, Chinese cell makers are also offering lower prices in order to sell their products and collect cash back. Also, owing to the decrease in module price, cell producers are asked to follow the same reduction trend. Furthermore, with the expectation that cell demand will further decrease in late January, some Chinese makers are securing orders with an aggressive pricing strategy. Thus, the price pressure in China is on the rise. On the other hand, overall Taiwanese cell price drops only marginally due to the latest announcement of the 2012 AD and CVD margin adjustment. As for the European market, while demand in the UK is solid because of the approaching closure of the Renewable Obligation scheme to large-scale solar, non-UK cell demand is not strong enough to push up prices. Considering the worldwide cell demand, the price competition in China and the impact of the US-China trade dispute, global cell price is on a decreasing slope at the current point.
Both mono wafer and multi wafer prices are weakening this week. As forecasts for wafer demand are dim for 1Q15, wafer producers are trying to stimulate the demand by cutting down selling prices. The pricing strategy enhances the price pressures on the wafer market, hence strengthening the trend. Nonetheless, thanks to the stable wafer demand in China as well as in recovering European and US markets, price reduction of wafers is still moderate at the present moment.
Polysilicon price declines slightly this week. Polysilicon demand remains stable because wafer procurement activities are still good. Also, it seems that the tension of the trade war between US and China is easing off. However, this is not a good news for Chinese polysilicon makers because the potential price premium they were hoping to gain from the Chinese AD investigation against US polysilicon might disappear. Besides, since some polysilicon makers continue to maintain high production utilization rate and increase the supply to the market, pressure on polysilicon price increases. Under such circumstances, polysilicon price drops slowly amid a stable demand.
Featured Product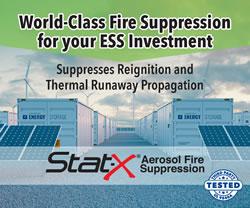 Stat-X® condensed aerosol fire suppression is a solution for energy storage systems (ESS) and battery energy storage systems (BESS) applications. Our Stat-X condensed aerosol fire extinguishing product was tested for efficacy in suppressing li-ion battery fires. It was found that the product successfully extinguished single and double cell battery fires. This testing was conducted in parallel with a large battery fire testing program on behalf of a large energy storage company.