Patent Won for Ideal Power's Core Power Packet Switching Architecture (PPSA) Power Conversion Technology; Company's Intellectual Property Protected in the Largest Global Markets
Ideal Power Inc. (NASDAQ: IPWR), a developer of a disruptive power conversion technology, announced today that the European Patent Office awarded the company a patent (EP2025051 B1) for its core power conversion technology, Power Packet Switching Architecture™ (PPSA). This patent, along with previously granted U.S. and Chinese patents, provide Ideal Power intellectual property protection in the world's largest markets.

"Our PPSA technology is increasingly recognized as offering market leadership in efficiency, size, weight, and cost for grid storage while providing electrical isolation," stated Dan Brdar, CEO of Ideal Power. "Securing key international patents not only protects our intellectual property, but is a core component of our commercialization strategy to develop global relationships and enter new markets while providing our customers sustainable competitive advantage."
About Ideal Power Inc.
Ideal Power Inc. (NASDAQ: IPWR) has developed a novel, patented power conversion technology called Power Packet Switching Architecture™ (PPSA). PPSA improves the size, cost, efficiency, flexibility and reliability of electronic power converters. PPSA can scale across several large and growing markets, including solar photovoltaic generation, electrified vehicle charging, and commercial grid storage. Ideal Power also has a licensing-based, capital-efficient business model that can enable it to address these markets simultaneously. Ideal Power has won multiple grants for its PPSA technology, including a $2.5 million grant from the Department of Energy's Advanced Research Projects Agency - Energy (ARPA-E) program, and market-leading customers are incorporating PPSA as a key component of their systems. For more information, visit www.IdealPower.com.
Safe Harbor Statement
All statements in this release that are not based on historical fact are "forward looking statements" within the meaning of the Private Securities Litigation Reform Act of 1995 and the provisions of Section 27A of the Securities Act of 1933, as amended, and Section 21E of the Securities Exchange Act of 1934, as amended. While we do not believe any of the statements in this release are "forward looking", to the extent they may have future implications or otherwise be interpreted as forward-looking, they are based upon management's current expectations, and the information on which such expectations were based may change. These forward looking statements rely on a number of assumptions concerning future events and are subject to a number of risks, uncertainties and other factors, many of which are outside of our control that could cause actual results to materially differ from such statements. Such risks, uncertainties, and other factors include, but are not limited to, whether the patents for our technology provide adequate protection and whether we can be successful in maintaining, enforcing and defending our patents, whether a demand for energy storage products will grow, whether demand for our products, which we believe are disruptive, will develop and whether we can compete successfully with other manufacturers and suppliers of energy conversion products, both now and in the future, as new products are developed and marketed. Furthermore, we operate in a highly competitive and rapidly changing environment where new and unanticipated risks may arise. Accordingly, investors should not place any reliance on forward-looking statements as a prediction of actual results. We disclaim any intention to, and undertake no obligation to, update or revise forward-looking statements.
Featured Product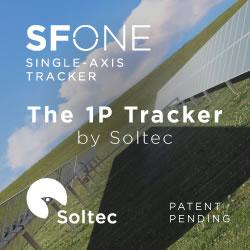 SFOne is the 1P single-axis tracker by Soltec. This tracker combines the mechanical simplicity with the extraordinary expertise of Soltec for more than 18 years. Specially designed for larger 72 an 78 cell modules, this tracker is self-powered thanks to its dedicated module, which results into a lower cost-operational power supply. The SFOne has a 5% less piles than standard competitor, what reduces a 75% the labor time.