The time is ticking by fast; and the excitement mounting with just 114 days to go before All-Energy, the UK's largest renewable energy exhibition and conference opens at the SECC in Glasgow, UK.
The time is ticking by fast; and the excitement mounting with just 114 days to go before All-Energy, the UK's largest renewable energy exhibition and conference opens at the SECC in Glasgow.

"The show is now 78% booked, by exhibitors from Austria, Belgium, Canada, China, the Czech Republic, Denmark. France, Germany. Italy, Lithuania, The Netherlands, Norway, and all parts of the UK," explains Exhibition Director, Jonathan Heastie of Reed Exhibitions. "The move from Aberdeen to Glasgow has been greeted with enthusiasm by exhibitors and potential visitors and speakers planning to take part on Wednesday 6 and Thursday 7 May, and we are looking forward to a highly successful fifteenth show in the annual series, as well as playing an important role in Glasgow during its Green Year.
"We've many new exhibitors including BSG Ecology, the Danish Board of District Heating,
Edina, Enertech (Osby Parca), the ISLES Project, Lark Energy, The Open University and the
University of Strathclyde; and well as a highly impressive list of returning exhibitors.
"The move to Glasgow has enabled us to include new features, and expand on some popular ones, which again has met with enthusiasm," he adds. "These include the introduction of a dedicated Sustainable Cities conference track; our Offshore Wind conference stream will take place in a 'silent theatre' on the showfloor; our 'Arrive and Drive' LCV feature will return with inside display space and an outdoor testing area; and new visitor trails including sustainable cities, energy storage and professional services have been added bringing the total number of dedicated trails to 15.
"These are designed to help visitors easily locate what they are looking for, and thus link the right buyers to the right sellers ensuring exhibitors and visitors maximise their time at the show. Statistics on the number of companies and number of visitors on All-Energy 2014 trails can be found on the 'sector trails' section of the website at www.all-energy.co.uk
Conference taking shape
"Work is now underway to put together a truly world-class conference with literally hundreds of abstracts received as well as innovative ideas for complete sessions. Our opening morning plenary session will include such luminaries as Cllr Gordon Matheson (awarded CBE in the New Year's Honours List), Leader of Glasgow City Council; Fergus Ewing MSP, Minister for Business, Energy and Tourism; Professor Sir Jim McDonald, Principal and Vice Chancellor of the University of Strathclyde; and Ian Marchant, former Chief Executive of SSE, President of the Energy Institute, and chairman and non-executive director of a number of highly relevant organisations. We will be announcing more of our speakers in the coming weeks.
"As ever, all elements of All-Energy – exhibition, conference and Giant Networking Evening at the Science Centre, are free to attend for all with a business/professional interest in renewable energy in all its guises, and in business energy efficiency."
The All-Energy conference traditionally has sessions, or streams (both offshore wind and wave and tidal have six sessions that spread across the two days), devoted to all renewable energy sources, and associated topics such as grid, finance and funding, skills and looks at progress, technology, opportunities and challenges. There are also three quick-fire seminar areas devoted to community energy; business energy efficiency; and wave and tidal.
All-Energy is supported by over 30 government departments, economic development agencies, professional bodies and trade associations and held in association with UK Trade & Investment, Highlands and Islands Enterprise, Scottish Enterprise, Renewable Energy Association and AREG – Aberdeen Renewable Energy Group, with the Society for Underwater Technology as its Learned Society Patron.
Further information on all aspects of All-Energy is available at www.all-energy.co.uk and from all-energy@reedexpo.co.uk
Looking back
All-Energy 2014 saw total attendance of 6,875; 450+ exhibiting companies from 19 countries; and over 400 speakers taking part in 95+ hours of conference and seminar sessions.
Those speakers included Rt Hon Alistair Carmichael MP, Secretary of State for Scotland; Fergus Ewing MSP, Minister for Energy, Enterprise and Tourism, Scottish Government; Sir Richard Branson; Bader Saeed Al Lamki, Director of Masdar Clean Energy; Peter Boyd, Chief Operating Officer, Carbon War Room and experts from all the renewable energy generating sectors; and from the worlds of finance and funding, grid, and skills who work with them towards the industry's success; and also those actively involved with business energy efficiency, CCS, nuclear, and energy storage.
The vast majority of the 2014 presentations are online to browse free of charge; and nearly 60 videos can similarly be watched free of charge.
ENDS
Featured Product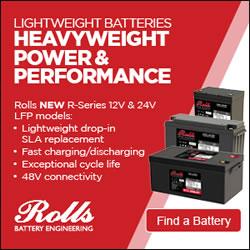 Designed for true drop-in replacement, Rolls new R-Series 12V & 24V LFP lithium models offer a maintenance-free lightweight flooded and SLA alternative in four popular BCI case sizes with fast charge/discharge capability. Rolls custom built-in BMS provides all necessary operating protections for safe operation and seamless integration for deep cycle replacement in 12V, 24V or 48V systems.