Comverge Devices Enable Two-Way Information Exchange Between Electric Utilities and Their Customers
NORCROSS, Ga., Jan. 14, 2015 -- Comverge Inc., the leading

provider of demand management solutions for electric utilities, today
announced it has agreements with electric utilities for the installation of
more than 400,000 IP-based two-way devices. Comverge has already implemented
260,000 of these low latency and highly responsive two-way devices, and has
agreements to deploy more than 140,000 additional devices. IntelliSOURCE, Comverge's enterprise software
platform for managing demand management programs, enables electric utilities
to create a two-way, real-time communication with the devices to increase
the effectiveness of demand response, energy efficiency and customer
engagement programs.
"In 2014, Comverge saw a rapid increase in the implementation of devices
that utilize Wi-Fi or cellular networks to enable a two-way information
exchange between electric utilities and their residential customers," said
Gregory J. Dukat, Comverge chairman, president and CEO. "This strong
momentum is set to continue into 2015 and we already have significant
agreements secured for the new two-way devices. The best practices we have
learned from our experience helping electric utilities establish a two-way
information exchange with their customers will further strengthen our
position as the leader in residential and mass market demand response
programs."
Continued Dukat, "With our demand response optimization engine, Comverge can
use the two-way information exchange to optimize resource performance for
utilities and ISOs in addition to improving the customer experience."
IntelliSOURCE includes capabilities for demand response optimization that,
when used in conjunction with Comverge IntelliTEMP DirectLink two-way smart
thermostats or IntelliPEAK DirectLink two-way load control switches, enable
utilities to improve the reliability, predictability and availability of
forecasting and executing demand response control events. The improved
forecasting capabilities enable utilities to improve peak demand management,
better integrate renewable sources of energy, facilitate real-time energy
trading decisions, and participate more effectively in capacity demand
response programs. As a result, IntelliSOURCE helps utilities transform
demand response from a resource typically used as a last line of defense to
a location specific resource as reliable as traditional sources of supply,
but with less cost, more flexibility and a smaller environmental footprint.
About Comverge
Comverge is an industry-leading provider of integrated demand response,
energy efficiency and customer engagement solutions that enable electric
utilities to ensure grid reliability, lower energy costs, meet regulatory
demands and enhance the customer experience. Through its combination of
software, hardware and services, Comverge helps utilities optimize every
aspect of a demand management program, from participant recruitment and
device installation to call center support, control events and measurement
and verification. Comverge has worked with hundreds of electric utilities to
deploy nearly six million energy management devices and enroll more than 1.6
million residential customers into mass-market demand management programs.
For more information, visit www.comverge.com and follow us on Twitter at
@Comverge.
Featured Product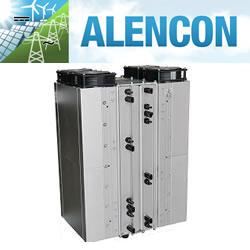 Alencon Systems is the premier manufacturer of high power, high voltage DC:DC optimizers for alternative energy applications including solar, battery energy storage, Microgrids, Fuel Cells and Electric Vehicle charging. Alencon's DC:DC converter offerings include the SPOT, BOSS and CUBE series DC:DC converters. The SPOT is a modular, uni-directional DC:DC solution ideal for solar applications. The BOSS is a modular, bi-directional unit for use with battery energy storage. The CUBE is a monolithic DC:DC converter which is available in both uni-directional and bi-directional modalities. Pictured above, is the Alencon SPOT.