Major turbines enter development in Aberdeenshire as Scotland continues to go with the wind.
Foundations have been laid for two new wind turbines in Aberdeenshire. The turbines will be generating electricity by the summer of 2015, bolstering Scotland's recent surge as in creating clean, green wind energy.

The two turbines are being constructed in Auchtygills and Clayfords, both close to Strichen, and will have a total capacity of 1.6 MW. All electricity generated by the pair of Enercon E-48 turbines will be delivered to the local electricity distribution network. Triodos Renewables is funding the developments.
Development gets underway just as impressive new figures reveal Scotland's on-going purple patch of green energy capacity growth. Data released in December 2014 by the UK Energy Minister Amber Rudd shows that renewable energy in Scotland offset a whopping 12 million tonnes of CO2 in 2013 - the highest emission offset ever recorded in Scotland and a 14% increase on figures from 2012.
Scottish turbines generated around 812,890 MWh of electricity for the National Grid in November 2014, according to figures from WWF Scotland. That's enough to meet the demands of 107% of Scotland's households. Relatively it's almost five times higher than the equivalent wind power generated in the rest of the UK during the same period (where wind energy only met 22% of total household energy demand).
Incredibly Scotland's wind turbines generated enough energy to supply energy to every home in Scotland on 11 out of 30 days during November 2014. The new turbines in Aberdeenshire will add further security to Scotland's energy supply and reinforce the nation's talked about reputation in the media and by WWF Scotland as being ambitious for wind energy production. Like they say, hoist your sail when the wind is fair.
Renewable energy specialists Triodos Renewables own eleven other renewable energy sites across the UK (a selection of wind farms and a hydroelectric site) with a total capacity of 54.56 MW. Together they produce enough green energy to meet the demands of 34,000 homes. Currently Triodos Renewables also offers a share-purchasing model that makes investment in the renewable energy sector very accessible - with a minimum investment of just £50.16 (initial offer only).
Any investment decision should only be made on the basis of the final Investment Memorandum and the Investor Agreement and not on any information in this summary. Investing in shares is not the same as investing money in a bank account as your capital is at risk and you may not get back the full amount you invested as the value of investments and the income derived from them may go down as well as up. Past performance is not a reliable indicator of future results. It may be difficult to sell or realise your investment or to obtain reliable information about its value or other risks to which it is exposed and you may not get back the full amount invested.
For more information, please visit http://www.triodosrenewables.co.uk.
Featured Product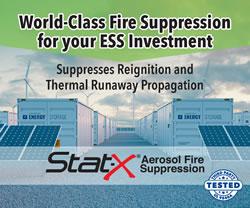 Stat-X® condensed aerosol fire suppression is a solution for energy storage systems (ESS) and battery energy storage systems (BESS) applications. Our Stat-X condensed aerosol fire extinguishing product was tested for efficacy in suppressing li-ion battery fires. It was found that the product successfully extinguished single and double cell battery fires. This testing was conducted in parallel with a large battery fire testing program on behalf of a large energy storage company.