Business hub for smart grid expands its scale by 26%
(Tokyo, Japan – December 9, 2014) - Reed Exhibitions Japan will be holding the 5th edition of the leading international exhibition & conference in Japan specialised in technologies and services related to Smart Grid - INT'L SMART GRID EXPO http://www.smartgridexpo.jp/en/ from February 25-27, 2015 at Tokyo Big Sight Japan. Various exhibits such as smart meters, infrastructure, IT systems and service suppliers, energy management systems/solutions, system operation services etc. will gather from across Japan and the world. With the comprehensive conference sessions held concurrent to the exhibition, INT'L SMART GRID EXPO is sure to be the hub for business between industry professionals.

Expanding large scale energy storage systems and infrastructure
As the needs for smart grid and renewables as alternative energy sources grow in Japan, infrastructure development such as transmission networks have also been increasing since the Fukushima Nuclear Incident. As though to portray the growing needs, increasing number of firms and organisations with exhibits of such field have been participating at INT'L SMART GRID EXPO. The size of the exhibition continues to expand and at this rate, the net exhibit area will exceed the previous edition by around 26%.
With the needs for transmission networks development is getting higher, core technologies such as large scale electricity storage systems are increasing and firms showcasing such exhibits are rising. To name a few, LSIS, NEC, NGK INSULATORS, PANASONIC, TOSHIBA, 4R ENERGY etc. As though to reflect the increasing business opportunities and competition, exhibitors are generally exhibiting with bigger sized booths. This may be a contributing factor for the growth in the show.
A new concurrent show will provide platform for "Electricity retail business"
Japan will be reforming the market and fully liberalising the electricity retail market from 2016. JPY 7 trillion worth of business is estimated to be generated (Source: Agency for Natural Resources and Energy, Ministry of Economy Trade and Industry) and in order to provide a platform for industry players seeking to enter this new lucrative business field, ENERGY LIBERALISATION JAPAN 2015 - 1st Energy Market Liberalisation Expo will be launched as a concurrent show of INT'L SMART GRID EXPO. A vast range of services and technologies related to electricity retail business will be showcased opening up new windows of opportunities for this new market. Since the announcement of the launch, the exhibition has been attracting much attention from industry professionals.
For instance, with the changing market conditions, needs for IT systems to support the electricity demands will become larger. A number of major firms looking to invest in this field have confirmed their participation such as IBM, HITACHI SYSTEMS POWER SERVICES, TOSHIBA PLANT SYSTEMS & SERVICES, NISSAN, ENERES, EPCO, WARTSILA etc.
For further information: http://www.e-jiyuka.jp/en/
Opportunities for business for experienced firms from overseas in the smart grid business are also expanding and INT'L SMART GRID will be a great starting platform to conduct business in Japan. This year, Canada and Taiwan will be exhibiting national pavilions and exhibitors from the UK, USA, Belgium, China, Korea, Hong Kong etc. will also be exhibiting.
As well as firms and organisations involved in the smart grid business, national bodies will also be participating in the exhibition. For instance, Japan's Ministry of Economy, Trade and Industry's Agency for Natural Resources and Energy will be exhibiting to reveal the latest results of various national projects. Details are to be announced at their booth.
Discover the latest technology trends and market insights at the Technical Conference
A Technical Conference will be held concurrent to the exhibition throughout the show period. This year, the INT'L SMART GRID EXPO Keynote Session will be held on the final day on the topic, "Industry Leaders Present: Current Situation and Future Prospects of Smart Grid". The session will be split into 3 parts where Yasuhiro Hayashi, Professor, Graduate School of Advanced Science and Engineering / Chairperson, Advanced Collaborative Research Organization for Smart Society (ACROSS) of Waseda University will hold a talk on "Heading towards Implementation of a Smart Society", Satoru Katsuno, Director, Executive President, General Manager of Corporate Planning & Strategy Div. of Chubu Electric Power will speak about "The Smart Grid Evolution ―New Life and Stable Supply―" and Masaaki Nomoto, Corporate Officer, General Manager, Energy Solutions Business Management Div. of Hitachi will be discussing "Hitachi's Energy Solution Business".
Other topics covered by the technical sessions include: "Leading Edge of Demand Response Technologies", "Innovative Cogeneration Technologies", "Latest Technology Trends in CEMS", "Latest Trends in Battery Management System", "Supply-demand Adjustments with Rechargeable Battery ―Case Studies Worldwide―", "Recent Updates on AMI, MDM and Smart Metering Systems", "V2H & V2G: Key Roles of EV in Smart Community", "Frontline of Security Systems for Energy Data Management"
A Keynote Session will also be held during the show for ENERGY LIBERALISATION JAPAN. Under the title "Electricity Deregulation in Japan: Business Strategies by Industry Leaders".
Hiroshi Yamaguchi, Executive Vice President of TOKYO ELECTRIC POWER will be holding a talk on "TEPCO's Initiative for Electric Power Market Liberalization", Yutaka Kunigo, Representative Director and Executive Vice President of TOKYO GAS will be speaking about "TOKYO GAS's Strategies of Total Energy Business", Hiroaki Ikebe, President and CEO of ENNET will be discussing "ENNET's Approach to Smart Service" and Motohide Ikeda, President and CEO of ENERES will be presenting a talk on "Energy Management Strategy with Storage Battery".
Numerous product/technology seminars are also to be held by exhibitors of INT'L SMART GRID EXPO within the exhibition hall. The full conference program and schedule for the product/technology seminars will be available on the official website soon. http://www.smartgridexpo.jp/en/seminar/
Part of the world's leading comprehensive renewable & smart energy show 5th INT'L SMART GRID EXPO is part of World Smart Energy Week 2015 http://www.wsew.jp/en/ - the world's leading comprehensive B-to-B renewable & smart energy trade show. Including INT'L SMART GRID EXPO, the entire show will be composed of 9 independent, world-class exhibitions covering various energy sectors and every stage of the energy business from power generation to electricity retail.
In order to aid participating professionals to catch industry and technological trends of the other energy sectors, various Technical Conference sessions will be held in parallel to the exhibitions throughout the show period where renowned industry leaders will reveal new policies, latest technology trends and industry outlook. For instance, "National Policy for Energy Conservation and Renewable Energy in Japan and U.S." will be revealed by the MINISTRY OF ECONOMY, TRADE AND INDUSTRY (METI) of Japan and U.S. DEPARTMENT OF ENERGY (DOE) at the World Smart Energy Week Keynote Session.
215 sessions will be held during the show period overall.
Reception parties will also be held on the first day of the show allowing exhibitors, visitors, conference speakers and attendees from across the 9 exhibitions will be able to acquaint, share ideas and build new connections.
Save the date – February 25-27, 2015, INT'L SMART GRID EXPO
With the line-up of exhibitors, comprehensive conference sessions and networking events, INT'L SMART GRID EXPO is sure to be a hub for business and catching hints for future business success.
Register for a free invitation ticket online http://www.smartgridexpo.jp/en/inv/ and save the dates for February 25-27, 2015 to take advantage of this indispensable opportunity.
For further details: http://www.smartgridexpo.jp/en/ or contract Show Management sg@reedexpo.co.jp
Featured Product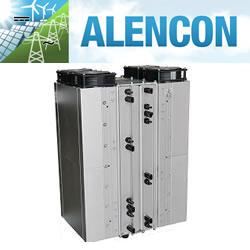 Alencon Systems is the premier manufacturer of high power, high voltage DC:DC optimizers for alternative energy applications including solar, battery energy storage, Microgrids, Fuel Cells and Electric Vehicle charging. Alencon's DC:DC converter offerings include the SPOT, BOSS and CUBE series DC:DC converters. The SPOT is a modular, uni-directional DC:DC solution ideal for solar applications. The BOSS is a modular, bi-directional unit for use with battery energy storage. The CUBE is a monolithic DC:DC converter which is available in both uni-directional and bi-directional modalities. Pictured above, is the Alencon SPOT.