Smart grid infrastructure advancements in Worcester, Mass. will improve electricity reliability and performance
WORCESTER, MA., January 15, 2015 -- National Grid today announced the official start of its two-year Smart Energy Solutions (SES) program—the most comprehensive smart grid pilot underway in the Northeast. As part of the launch, nearly 15,000 participating customers in Worcester, MA now have the opportunity to try out new pricing plans designed to help them save on their monthly electric bills and prepare for peak energy events.

"The Smart Energy Solutions program provides participating customers with real opportunities to manage their energy usage and reduce their monthly bill," said Marcy Reed, president, National Grid MA. "At the heart of the program is our desire to help put our customers in control of their energy and do so in ways that are easy and convenient for them."
An important feature of the Smart Energy Solutions program is National Grid's investment in new infrastructure and technologies in Worcester. These advanced communications and automation enhancements will enable faster outage identification—including which customers have lost power during storms or emergency conditions—and faster system restoration.
Smart Rewards Pricing Plan
Under National Grid's Smart Rewards Pricing plan, participating customers have daytime rates that are lower than their current Basic Service rate (or electricity supply rate) for 335 days per year. This plan provides for even lower rates on nights, weekends and holidays. It offers savings for shifting energy-intensive activities to any time before 8:00 a.m. or after 8:00 p.m., which is when electricity prices are the lowest. Typical residential customers can expect to see average savings of approximately $16 per month on this plan.
On the remaining 30 days each year, called Conservation Days, rates will increase significantly during specifically designated hours (known as peak events). These peak events will typically be during summer months, when electricity is in high demand and the supply is constrained. During these Conservation Days, customers will be prompted to take action to conserve energy and reduce their electricity costs during those designated hours. National Grid will notify customers the day before a peak event so they can plan accordingly.
The Smart Rewards Pricing plan offers bill protection. If customers stay with this pricing plan for 12 consecutive months, their annual billing will not exceed the amount it would have been under their previous rate.
SES customers are enrolled in the Smart Rewards Pricing plan but can easily opt into the Conservation Day Rebate plan if they prefer.
Conservation Day Rebate Plan
This plan offers customers the opportunity to stay at their current Basic Service rate and earn a rebate when they reduce their energy usage below what they normally use during peak events.
Customers will receive a credit the following month for any energy they saved during the previous month's peak events on the Conservation Days. This plan does not include the lower rates for the 335 days of the year the Smart Rewards Pricing plan offers.
To learn more please view the Smart Rewards Pricing video: http://youtu.be/8l7BbBVPCQ0.
Smart Grid Infrastructure Advancements and Upgrades
National Grid has recently installed advanced technology on its electricity distribution system that includes a private, secure, high-speed communications network connecting the company, customers, and the local power system. Previously National Grid relied on customers to call in service interruption information but now, with this enhancement, will be able to more quickly identify where outages are occurring within the SES program footprint.
"Much of our current electricity system dates back to the time of Thomas Edison, yet we all want cleaner and smarter energy solutions," Marcy Reed continued. "What we are doing in Worcester is bringing innovation and new technology solutions to our customers supported by an advanced infrastructure that is more resilient, efficient and productive."
Additional electricity system benefits include:
*Faster outage identification and system restoration that reduces and in some cases eliminates power interruptions;
*Improved reliability, system performance and operational efficiency—reducing costs for grid operation and maintenance.
These investments cover approximately 150 miles of electricity distribution lines in Worcester and a wireless communication network comprised of 14 base stations. Approximately 180 devices have been installed on the overhead and underground electric system enabling many of these enhancements.
Under the SES program, the company is testing full integration of renewable resources and electric vehicle charging stations in the city. Several transformer monitors are installed at solar and wind distributed generation locations within the SES program area to help the company study the impact of distributed generation on the electric system.
For more information about National Grid's new pricing plans for Smart Energy Solutions customers or to learn more about the pilot, please visit http://www.nationalgrid.com/smartenergy.
About National Grid
National Grid (LSE: NG; NYSE: NGG) is an electricity and natural gas delivery company that connects nearly 7 million customers to vital energy sources through its networks in New York, Massachusetts and Rhode Island. It is the largest distributor of natural gas in the Northeast. National Grid also operates the systems that deliver gas and electricity across Great Britain.
Through its U.S. Connect21 strategy, National Grid is transforming its electricity and natural gas networks to support the 21st century digital economy with smarter, cleaner, and more resilient energy solutions. Connect21 is vital to our communities' long-term economic and environmental health and aligns with regulatory initiatives in New York (REV: Reforming the Energy Vision) and Massachusetts (Grid Modernization).
For more information please visit our website: www.nationalgridus.com, or our Connecting website. You can also follow us on Twitter, watch us on You Tube, Friend us on Facebook and find our photos on Instagram.
Featured Product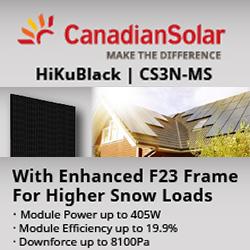 Aesthetic appearance for residential systems: With black backsheet & black frame, Power range 380 ~ 405 W, Low power loss in cell connection. Enhanced reliability: · Low temperature coefficient (Pmax): -0.34 % / °C, LID LeTID less than 2.0%, Lower hot spot temperature, Better shading tolerance.