Industry-leading AC Power Block, Series 4 module, Module Plus System and O&M services to be showcased ----skytron energy to make WFES debut with PVGuard SCADA Platform
ABU DHABI, United Arab Emirates--First Solar, Inc. (Nasdaq: FSLR) today announced the launch of its Energy Capacity Assessment Tool, a first for the solar energy industry, at the 2015 World Future Energy Summit (WFES). The company will showcase the application and its comprehensive range of solar energy solutions at the Summit in Abu Dhabi, from January 19 to 22, 2015.

The interactive Assessment Tool allows developers and investors to evaluate the feasibility and energy output of ground-mounted utility-scale projects, using First Solar's advanced thin film technology, anywhere in the world. Users will be able to plot potential sites on a mapping interface; design a plant, while adjusting configurations to maximize energy output; and generate a report that includes site-specific estimated capacity and energy yield, while factoring in irradiation levels, average temperatures, project construction timing and more. The application can be accessed online on www.firstsolar.com/energycapacity.
First Solar will also showcase its next generation First Solar Series 4™ thin film photovoltaic (PV) module and AC Power Block™ solar power plant solution at WFES. First Solar's new Series 4 PV module offers up to eight percent more energy than conventional crystalline silicon modules with the same power rating, and is compatible with advanced 1500-volt plant architectures. The AC Power Block is a configurable, pre-engineered system that is based on First Solar's proven PV plant design and energy prediction model, and is available in modular units ranging from 800 kilowatts (kW) to 3.8 megawatts (MW).
Additionally, First Solar will spotlight its Module Plus System, featuring optimized fixed-tilt and single-axis tracker designs, and its comprehensive range of Operations and Maintenance (O&M) services. skytron energy, a global leader in integrated monitoring, control and supervision systems, which was acquired by First Solar in 2014, will also make its WFES debut with its PVGuard SCADA Platform.
"As the energy transition ratifies solar power's role in the global generation portfolio, there has never been a greater emphasis on maximizing energy yield in real-world conditions. Our mission, reflected in the range of solutions on show at the World Future Energy Summit, is to respond to our customers' energy yield priorities with singular solutions designed to address specific challenges," said Joseph Kishkill, Chief Commercial Officer, First Solar, Inc.
"The Middle East is fast evolving into a sophisticated market for solar energy, driven by long term diversification and energy security strategies. It is in this context that we've focused our efforts on building on our track record and optimizing energy output for the region's unique environmental conditions," said Ahmed S. Nada, Vice President for the Middle East at First Solar. "Showcasing our industry-leading range of solutions at the region's premier sustainable energy exhibition underscores the market's importance to our growth strategy."
A fully vertically integrated solar energy company, First Solar's capabilities span the entire solar value chain. The company has over 9,000MW of installed capacity around the world and a contracted pipeline of projects that exceeds 2,600MW.
Significantly, it has been selected as a finalist in the 2015 edition of the prestigious Zayed Future Energy Prize. In the Middle East, the company has built the 13MW first phase of the Mohammed bin Rashid Al Maktoum Solar Park in Dubai, currently the Middle East and North Africa region's largest facility, and will be constructing the 52.5MW Shams Ma'an solar plant in Jordan.
First Solar will be located in hall 07, booth number 7420, at the World Future Energy Summit. The Summit takes place at the Abu Dhabi National Exhibition Centre, Abu Dhabi, UAE, as part of the Abu Dhabi Sustainability Week 2015.
About First Solar, Inc.
First Solar is a leading global provider of comprehensive photovoltaic (PV) solar systems which use its advanced thin-film modules. The company's integrated power plant solutions deliver an economically attractive alternative to fossil-fuel electricity generation today. From raw material sourcing through end-of-life module recycling, First Solar's renewable energy systems protect and enhance the environment. For more information about First Solar, please visit www.firstsolar.com.
About skytron energy
skytron energy has been developing integrated monitoring, control and supervision systems since 1977. Now one of the leading suppliers in the industry, specializing in utility-scale and commercial power plants, it has installed monitoring and control systems in more than 600 plants with a total capacity of 5 GWp. The company's core competencies are plant condition monitoring, power plant control, remote plant supervision, system migration of existing power plants, operation & maintenance, and PV asset management. skytron energy is headquartered in Berlin, Germany. As a technology leader, skytron energy has received a number of prestigious awards, such as the highly coveted Solar Industry Award for the "skylog" Data Logger System or the InterSolar Award for the "PVGuard" Supervision Platform, and for the "StringGuard" string current measurement system.
Featured Product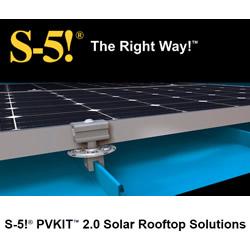 The concept of combining PV arrays with standing seam metal roofing is growing-for good reasons. Metal roofs have a life expectancy of more than 40 years. Shouldn't the mounting system last as long? With S-5! zero-penetration attachment technology and PVKIT 2.0, the solarized metal roof is the most sustainable system available -and without compromising roof warranties! PVKIT 2.0 is the also the best solution for attaching PV modules directly to any exposed fastener metal roof.