Lunera's Helen Lamp is the first plug and play LED replacement for compact fluorescent lamps (CFL), commonly used in commercial buildings, that has achieved ENERGY STAR certification.
Simply Change a Light Bulb to Cut Energy Use by 50 Percent or More

Lunera® Lighting, Inc., a leader in lighting innovations accelerating the transformation to advanced LED technology, is pleased to announce the Helen Lamp has earned the U.S. Environmental Protection Agency's (EPA's) ENERGY STAR certification. This means it meets the strict energy efficiency performance levels set by the EPA. The Helen Lamp is the first plug and play LED replacement for compact fluorescent lamps (CFL), commonly used in commercial buildings, that has achieved this distinction.
"Receiving ENERGY STAR certification for our plug and play Helen Lamp is a significant benchmark for our BallastLED technology," explained Lunera's Vice President of Sales and Marketing, Tom Quinn. "Widely recognized and accepted by a majority of the nation's utilities; ENERGY STAR certification dramatically impacts the amount of rebates that are available to support the
installation of the Helen Lamp into a building's existing lighting infrastructure."
Lunera's revolutionary BallastLED technology enables the Helen Lamp to operate directly off a fixture's existing ballast. This innovation eliminates the need to modify or replace a fixture to realize the benefit of LED technology, dramatically reducing installation time and LED conversion costs.
The Helen Lamp offers four color temperatures to create the right lighting for any commercial indoor environment; creating beautiful, near-daylight quality light.
The Helen Lamp saves more than 50 percent in energy consumption compared to the two or four pin
26-watt CFLs it renders obsolete. Energy savings can escalate up to 60 or 70 percent when replacing
32-watt or 42-watt CFLs. Backed by a five-year warranty, the long 50,000-hour lifespan of the Helen Lamp eliminates a minimum of five CFL lamp replacement cycles, virtually eliminating routine maintenance costs.
Where to Buy and Financing
Lunera's BallastLED lamp products are available through authorized nationwide distributors. Utility rebates combined with the energy savings gained through LED technology deliver compelling economic value for a lighting retrofit project. Contact Lunera to arrange a demonstration or to locate a distributor near you.
About ENERGY STAR
The EPA introduced ENERGY STAR in 1992 as a voluntary, market-based partnership to reduce greenhouse gas emissions through energy efficiency. Today, the ENERGY STAR label can be found on more than 65 different kinds of products, 1.4 million new homes, and 20,000 commercial buildings and industrial plants that meet strict energy-efficiency specifications set by the EPA. Over the past twenty years, American families and businesses have saved more than $230 billion on utility bills and prevented more than 1.8 billion metric tons of greenhouse gas emissions with help from ENERGY STAR.
About Lunera
Lunera Lighting is an innovative technology leader in LED light products that are simple to install, reliable to operate, and valuable to own. Lunera designs, assembles, and markets high performance plug-and-play commercial LED lamps that obsolete traditional lighting technologies. For building owners and operators, Lunera's products reduce operating expenses by lowering electricity and maintenance costs. For occupants, Lunera's technology improves light quality, enhancing comfort and productivity. Based in Silicon Valley, Lunera is part of a community of progressive companies that challenge convention and transform industries for the benefit of all. Visit Lunera on the web, Facebook or Twitter.
###
Featured Product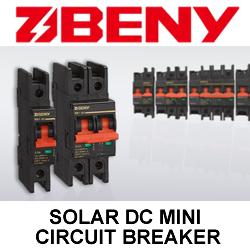 The BB1-63 modular miniature circuit-breakers can be used in solar DC circuits up to 1200 VDC (4-poles execution). Application in solar DC circuits, battery energy storage systems and UPS. Arc flash barrier design keeps solar equipment more safe and reliable. For DC circuit over-current protection.