Keeping Up With the Neighbors Means Saving Money
Sausalito, Calif., January 20, 2015 – Neighborly competition takes on a whole new meaning in a series of ads from BSSP and Sunrun, the largest dedicated residential solar company in the U.S., that promote the money saving opportunities one suburbanite realizes when he has Sunrun solar panels installed on his roof. He finds that he "smells like money," a scent that wafts through the hedges to his less fortunate neighbor.

While saving 20 percent on one's electric bill with solar power is the overarching message of the campaign, the delivery of that message takes a comedic turn by featuring two neighbors whose witty repartee both informs and entertains. BSSP brought in production company Gifted Youth, a division of Funny or Die, and Director Jason Winer, to infuse the campaign with a sense of reality, rooted in comedy that creates a distinctive voice for the Sunrun brand.
"Even today, there are a lot of misconceptions about solar power: It's for hippies. It's for techies. It's for the wealthy. It's complicated. So we figured the best way to debunk those myths was through a series of very natural, and very funny, conversations between two neighbors. The thought being, if we can laugh at the misconceptions, and we can relate to those guys, we can relate to solar power. Because, really, home solar is about being smart and saving money," explained Josh Leutz, Creative Director at BSSP.
The two actors in the spots are improv veterans who carry on every day conversations held at the kitchen counter and in the garden. The campaign begins rolling out this month in regional markets and is part of a larger push that will include radio, out of home, online video, and display to build awareness of Sunrun and drive leads. The initiative will begin with two ads and expand later in the year with additional spots and markets.
"With a pair of real guys as the anchor, the ads show how mainstream solar is becoming and also how easy it is to save money when you sign up with Sunrun solar," said Michael Grasso, chief marketing officer at Sunrun.
The BSSP team saw Jason Winer as the ideal director for the spots, given his ability to tap into contemporary humor. Winer directed the pilot of Modern Family, putting together the original cast and defining the visual style of the show. He has since directed nineteen additional episodes of the series and won multiple awards including an Emmy, Peabody, and a DGA award among others.
"Everyone thinks you can just hire funny people and let them do their thing, and maybe that's partially true. But the goal is to take good material and elevate it to great material, and doing that requires an understanding of what makes a given moment funny. Once you really understand that, then writing alternate jokes becomes easy and improvisation becomes a much more focused tool," explained Jason Winer.
As the first company to introduce solar as a service to American homeowners, Sunrun has reinvented the way people buy electricity. Sunrun gives homeowners access to the smartest energy source – sunlight – and takes care of everything so families can focus on more important things, like putting savings back in their pockets each month.
About BSSP
BSSP, www.bssp.com,is a full-service marketing communications agency based in Sausalito, CA, providing services in advertising, online marketing, web development, data analytics, media strategy and buying, brand identity, design and strategic brand consulting. BSSP is one of the largest independent agencies on the West Coast and is known for providing highly creative, fully accountable marketing solutions to a broad array of marketers including Priceline, US Bank, MINI Cooper, Blue Shield of California, Greyhound, El Pollo Loco, Redfin and others. Adweek named BSSP "Best Small Agency of the Decade." Outside Magazine named BSSP "One of the Best Places to Work in America" in 2011, 2012, 2013 and 2014. Forbes.com named BSSP "One of the Top 10 Agencies in the Country" in 2012. BSSP is member of Worldwide Partners, a group of 95 agencies in 55 countries around the world, helping clients grow their businesses in international markets.
About Sunrun
Sunrun pioneered solar as a service, a way for homeowners to go solar without the high upfront cost, and is the largest dedicated residential solar company in the U.S. Sunrun provides end-to-end service for homeowners to choose cleaner, cheaper, solar energy and fix their electric costs for 20 years. The company designs, installs, finances, insures, monitors and maintains the solar panels on a homeowner's roof, while families pay just for the electricity at a lower rate than their current utility. Since Sunrun introduced solar as a service in 2007, it has become the preferred way for consumers to go solar in the nation's top solar markets. Sunrun has deployed more than $2 billion in solar systems and has raised more than $300 million in equity capital. For more information please visit: www.sunrun.com.
Featured Product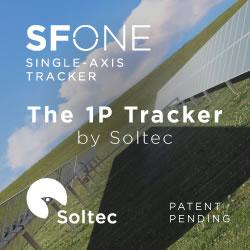 SFOne is the 1P single-axis tracker by Soltec. This tracker combines the mechanical simplicity with the extraordinary expertise of Soltec for more than 18 years. Specially designed for larger 72 an 78 cell modules, this tracker is self-powered thanks to its dedicated module, which results into a lower cost-operational power supply. The SFOne has a 5% less piles than standard competitor, what reduces a 75% the labor time.