Germany business wins New Economy Clean Tech Award 2014
Suessen (GER) / London (GBR), January 20h, 2015 – EIGHT GmbH& Co. KG wins the New Economy Clean Tech Award 2014 and gets honored for the world wide best solution for electric mobility. In the past the German engineering business already got awarded by Fraunhofer Institute and further national organizations as well as by the World Summit on Innovation & Entrepreneurship. Now the company from Suessen, near Stuttgart, gets another appreciation of its Point.One solar charging stations.

"With our solar charging stations we are competing directly with globally leading technology companies, which have started to discover the potential of clean tech and electric mobility. This makes the award even more outstanding for us because it means that out solar charging stations, which are optimized for sustainability and functionality are market leading", said Christoph B. Roessner, Managing Director and founder of EIGHT GmbH & Co. KG. "Since we have installed our very first construction of our new model Point.One S in autumn 2014 in front of BMW Welt in Munich we have noticed a growing interest in our solar charging stations which are planned, designed and produced in Germany."
The solar charging stations from EIGHT combine design with functionality and do always match with the architecture of their environment. A new, by EIGHT developed and consistent sustainable manufacturing system as well as a parametric and digital product planning system are ideal premises to create individual designs and unique constructions. Due to the direct coupling of renewable energies and e-mobility in a trendsetting design, which gets implemented by the latest and highly innovative technologies, the solar charging station will become a visible symbol with a unique recognition value.
To strengthen the visual effect EIGHT has developed an electric lighting concept that bases upon LEDs and that supports the interaction between the solar charging station and the users. For instance when approaching the solar charging station the coloring and the brightness of the LEDs can change. In addition to this the LEDs can send a visible sign about the status of the station – e.g. "booked" or "available". Another platform for interaction is a user interface which bases upon an interactive touch screen monitor. This terminal enables the identification of the user and the selection of the charging strategy. Additionally the touch screen provides a central operation and communications element that delivers relevant information such as infotainment and edutainment applications. The platform delivers pre-trip information including all relevant features like a range monitor. EIGHT developed an innovative user interface to make the use of the touch screen user-friendly and to motivate people to use the applications of the information platform. By doing this EIGHT has created an exciting and joyful access to the overall system of e-mobility. It connects e-mobility with positive emotions. On these grounds EIGHT also cooperates with one of the world wide leading colleges.
The New Economy Award gets organized by World News Media and honors business which stand out for innovative and future-orientated developments. During the process of evaluation the focus is not only on individual products but also on each business model and the company including all its elements. As part of the 2014 Clean Tech Award a huge number of business have been analyzed by comparing several criteria: strategy, quality of operation, sustainability, research and development, level of innovation and the benefit to society.
"The amazing feedback by a global jury of scientists, journalists, consumers and business leaders is very important to us, especially as we are operating in a market which is still very dynamic and rapidly developing", said Christoph B. Roessner. "The award shows us that our solutions for a modern and sustainable electric mobility are the right answer for today's challenges."
Featured Product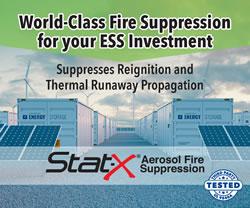 Stat-X® condensed aerosol fire suppression is a solution for energy storage systems (ESS) and battery energy storage systems (BESS) applications. Our Stat-X condensed aerosol fire extinguishing product was tested for efficacy in suppressing li-ion battery fires. It was found that the product successfully extinguished single and double cell battery fires. This testing was conducted in parallel with a large battery fire testing program on behalf of a large energy storage company.