New partnership to install ocean buoy array system off the shores of T'Sou-ke traditional territory.
Sooke, BC January 21, 2015

AOE Accumulated Ocean Energy Inc. (AOE) and T'Sou-ke Economic Development Limited Partnership (TED LP), a T'Sou-ke Nation-owned partnership, have completed an agreement to pursue business opportunities located in the traditional territory of the T'Sou-ke Nation called the T'Sou-ke Ocean Energy Limited Partnership (TOE LP).
AOE is working toward the advancement of its proprietary technology in the area of ocean wave energy production and the two entities will mutually benefit from the establishment of a formal business arrangement. Both entities are greatly concerned about the environment and a responsibility to develop renewable energies.
The first of the projects proposed by the newly formed TOE LP will be the installation of a test system off the shores of the T'Sou-ke traditional territory. An array of ocean buoys ("Ocean Buoy Array System", or "OBAS") will be deployed near the coastline to transform wave energy into highly compressed air, which will then be transported by pipeline or hoses to onshore reservoirs for storage and later used to power machinery producing electricity, hydrogen gas, potable water, aeration for aquaculture, etc. An OBAS will also support marine life habitat creation due to the unique AOE anchoring system.
"This is a giant step forward for ocean energy in Canada," says Kevin Paetz, CEO of AOE, "By working together and leveraging each other's resources we could see energy production before the end of 2015."
In September, 2013 AOE launched a prototype buoy in Sooke, BC which successfully compressed air with just a couple of small waves.
It is expected that available energy, produced by the OBAS, could displace energy currently produced by diesel generators for many Vancouver Island First Nations in proximity to suitable waves. It is perceived as a major benefit for many First Nations communities to be less reliant on diesel power and electricity by developing independent and renewable energy. Additional projects would include coupling the AOE OBAS with ocean aeration systems to combat ocean acidification, hypoxia, and reclaim barren ocean floors.
TOE LP intends to begin manufacturing the OBAS immediately and will be looking to work closely with the T'Sou-ke Nation to drive aboriginal jobs, training and education in the technology. The goal is to not only produce wave energy but see this sustainable energy source bring highly skilled, well compensated employment to the First Nations community.
"T'Sou-ke Economic Development is thrilled with this partnership," stated Gordon Planes. "We see the two companies as having similar beliefs in environmental stewardship while bringing a sustainable economic and healthy lifestyle to remote First Nations."
Featured Product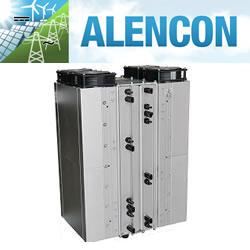 Alencon Systems is the premier manufacturer of high power, high voltage DC:DC optimizers for alternative energy applications including solar, battery energy storage, Microgrids, Fuel Cells and Electric Vehicle charging. Alencon's DC:DC converter offerings include the SPOT, BOSS and CUBE series DC:DC converters. The SPOT is a modular, uni-directional DC:DC solution ideal for solar applications. The BOSS is a modular, bi-directional unit for use with battery energy storage. The CUBE is a monolithic DC:DC converter which is available in both uni-directional and bi-directional modalities. Pictured above, is the Alencon SPOT.