NPS refocusing on the US market
Barre, VT USA (January 22, 2015) – Northern Power Systems Corp. (TSX:NPS), a next generation renewable energy technology company, today announced that Diego Tebaldi, Sr. Director, Global Business Development, Northern Power Systems, was elected to the Distributed Wind Energy Association (DWEA) Board of Directors. Mr. Tebaldi was confirmed at the January 2014 DWEA Board of Directors Meeting.

"We believe that our American-made next generation 100 kW NPS 100C-24 (Class III/A) wind turbine offers the highest annual energy production in its class," said Tebaldi. "By working closely with DWEA, we expect to have the opportunity to help shape federal, state and local policies that support the expansion of the US distributed wind energy market and help farms, businesses, and public and industrial facilities generate low-cost, on-site electricity."
About The Distributed Wind Energy Association
The Distributed Wind Energy Association is a collaborative group comprised of manufacturers, distributors, project developers, dealers, installers, and advocates, whose primary mission is to promote and foster all aspects of the American distributed wind energy industry. Distributed wind is the use of wind turbines at homes, farm and ranches, businesses, public and industrial facilities, off-grid and other sites connected either physically or virtually on the customer side of the meter to offset all or a portion of local energy consumption or to support grid operations. DWEA seeks to represent members and associates from all sectors with relevant interests pertaining to the distributed wind industry. For more information on DWEA, please go to www.distributedwind.org. Follow us on Twitter @DWEA and like us on Facebook.
About Northern Power Systems
Northern Power Systems designs, manufactures, and sells wind turbines and power technology products, and provides engineering development services and technology licenses for energy applications, into the global marketplace from its US headquarters and European offices.
*Northern Power Systems has almost 40 years' experience in technologies and products generating renewable energy.
*Northern Power Systems currently manufactures the NPS 60 and NPS 100 turbines. With over 6 million run time hours across its global fleet, Northern Power wind turbines provide customers with clean, cost effective, reliable renewable energy.
*Patented next generation permanent magnet/direct drive (PM/DD) technology uses fewer moving parts, delivers higher energy capture, and provides increased reliability due to reduced maintenance and downtime.
*Northern Power Systems' FlexPhase power converter platform uses patented converter architecture and advanced controls technology for advanced grid support and generation applications.
*Northern Power Systems offers comprehensive in‐house development services, including systems level engineering, advanced drivetrains, power electronics, PM machine design, and remote monitoring systems to the energy industry.
*Some of the world's largest manufacturers license the company's next generation technology and IP for their utility and distributed wind products and markets.
To learn more about Northern Power Systems, please visit www.northernpower.com.
Featured Product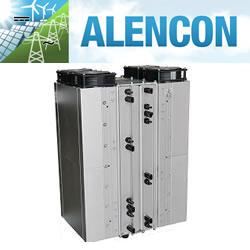 Alencon Systems is the premier manufacturer of high power, high voltage DC:DC optimizers for alternative energy applications including solar, battery energy storage, Microgrids, Fuel Cells and Electric Vehicle charging. Alencon's DC:DC converter offerings include the SPOT, BOSS and CUBE series DC:DC converters. The SPOT is a modular, uni-directional DC:DC solution ideal for solar applications. The BOSS is a modular, bi-directional unit for use with battery energy storage. The CUBE is a monolithic DC:DC converter which is available in both uni-directional and bi-directional modalities. Pictured above, is the Alencon SPOT.