Questacon has extended its investments in new technology and energy sustainability further with an innovative and high-tech photovoltaic (PV) solar power station installed on its roof top.
Questacon - The National Science and Technology Centre was founded in the early 1980s by Professor Mike Gore AM to be the first Australian interactive science centre. The Centre was built as a joint Australia-Japan Bicentennial Project with the Japanese Government and business community contributing half of the cost of the building.

Now, Questacon has extended its investments in new technology and energy sustainability further with an innovative and high-tech photovoltaic (PV) solar power station installed on its roof top.
The solar system has been designed for installation across the many roof areas of the centre in July 2014 by Laros Technologies , and uses over 360 WINAICO PV modules, having a nominal generation capacity of 94 kW. It is expected that the PV system will supply approximately 10% of Questacon's annual electricity requirements.
The very professional installation of the Questacon PV system was undertaken by Shepherd Electrical.
The WINAICO modules offer performance reliability and system security through both their excellent construction and performance characteristics, coupled with the unique system-wide insurance coverage that comes automatically with WINAICO PV modules.
Another unique and important technology component in the Questacon PV system is the use of the aerodynamically assisted, self-ballasted, non-roof-penetrating 'Ilzosave' PV module mounting system from the German company Ilzosurf and supplied by LAROS Technologies in Australia.
This technology makes use of the wind movement passing over the modules to actually create a partial vacuum under the modules, which in turn makes them 'hug' the roof surface, and become very resistant to being moved by the wind.
The success of the project would not have been possible without the substantial planning and design that was done in preparation for the installation. An array of challenges presented themselves, such as the inclusion of Questacon in the Parliamentary Triangle and the associated aesthetic design considerations, difficult roof area shapes and access, meeting the delicate structural loading requirements of certain roof areas, and substantial shading and solar access management around the iconic structures of the Questacon building, all yielded solutions as the LAROS team applied their extensive expertise and innovative approaches to the project.
With their substantial experience in commercial solar projects, Laros Technologies has successfully provided Questacon with a solar power station that will make an efficient and reliable clean energy contribution to its electricity needs for decades to come.
WINAICO – Manufacturer and Module Supplier
As a 100% subsidiary of the semiconductor company Win Win Precision Technology Co., Ltd., based in Taiwan, WINAICO manufactures and distributes crystalline high performance modules worldwide. Furthermore, as a systems house for photovoltaic equipment, WINAICO also delivers complete PV system packages.
PV projects using WINAICO solar modules benefit from the superior product quality of products manufactured in Taiwan in accordance with the highest quality standards, as well as from the comprehensive consultation, planning and maintenance services provided by WINAICO. Generous stock levels ensure the rapid availability of WINAICO products.
LAROS Technologies
LAROS specialises in the design and installation of commercial solar PV systems and low energy building technologies and techniques. LAROS provides consultation, design and Low-E solutions for consumers in residential, commercial and institutional buildings, both new and retrofit. Based in Canberra, the company has successfully completed projects all over Australia.
Questacon - The National Science and Technology Centre
Questacon, located within Canberra's Parliamentary Zone, is a place to engage the public with science and technology through interaction and experience, and inspires visitors of all generations towards becoming critical, creative thinkers and innovators.
The centre hosts exhibitions, shows, talks, workshops and many programmes to promote science and technology.
Featured Product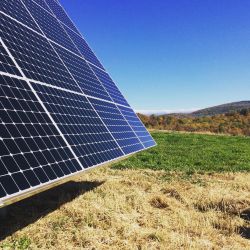 Designed and manufactured in the U.S., the AllEarth Solar Tracker is a complete grid-tied, dual-axis solar electric system that produces up to 45% more electricity than fixed systems. The tracker uses GPS and wireless technology to follow the sun throughout the day for optimal energy production. It has an industry-leading 10 year warranty and 120 mph wind rating, superior snow shedding, and automatic high wind protection. Its simple, durable design and complete system pallet simplifies costly procurement and installation time. Contact us about becoming a dealer partner or purchasing an AllEarth Solar Tracker.