Lennar Homes and Solar Energy USA have developed a strong relationship that helps bring clean energy and lower power bills to new home buyers in Georgia. Solar Energy USA is preparing for hundreds of new home solar installations on Lennar homes across the state of Georgia.
Lennar will soon offer buyers in the Harrison Park Neighborhood the option of pre-wiring homes for a solar panel installation. Solar Energy USA, an Atlanta-based solar integrator, will design and install the rooftop solar energy systems, allowing Harrison Park homeowners the ability to generate their own electricity, resulting in a new home with power bills cheaper than a new home without solar.

Few companies have ventured as far into new home solar options as has Lennar, the nation's second-largest home builder. Consumers shopping for a Lennar home in more than 100 of its developments in California, 11 in Colorado and a handful in Nevada find that almost all the houses have solar panels. The company is currently expanding their solar program into more states, like Georgia, focusing on locations that have programs to encourage renewable energy.
Georgia is a largely untapped market for residential solar although it has great potential. In 2013, Georgia installed 91 MW of solar electric capacity, ranking it 7th nationally, though most of these solar installations were on a much larger utility-scale.
"We've always recommended installing solar at the front end of the home building and purchasing process. It makes sense from both a technical and financial standpoint," says Perry Bell, President and CEO of Solar Energy USA. "It's great to see such a large, high quality home builder like Lennar making the commitment to solar energy. We're excited to be their dedicated solar partner here in Georgia, with future partnerships possible in North and South Carolina."
"We are constantly looking for energy saving options for our homebuyers and solar energy is certainly a great green energy solution. We will be offering our new home buyers the option of prewiring their home for acceptance of solar panels after the close. This way the homeowner and Solar Energy USA can customize the system to their needs and provide a clean install of the system," says Chris Recker, Director of Construction at Lennar.
"Solar can provide 10%, 25%, 50%, even 100% of a home's power depending on the installation. We have a number of customers who no longer pay for monthly power thanks to solar installations which provide all of their required needs," adds Bill Zagorski, Sales Manager at Solar Energy USA.
Homeowners still must contract with the power company for conventional electricity for times when the solar gear can't generate enough, such as at night and on cloudy days. In addition, when their system generates more power than they use, they often can send the surplus to the public grid and get a credit from the utility.
About Solar Energy USA
Solar Energy USA is a renewable energy company that specializes in solar powered energy solutions including photovoltaic solar panel systems, electric vehicle charging stations, and energy efficient LED and T5 commercial lighting retrofits. Solar Energy USA is committed to affordable solar solutions for both businesses and residential homeowners and is backed by a network of engineers and installers across the US which gives them collective data and information of new developments in the solar industry. www.solarenergy-usa.com
About Lennar Homes
Founded in 1954, Lennar is now a publicly traded company building homes in 17 states and recognized as a leader in quality, value and integrity. The EI line, which originally launched in 1980, now includes a wide variety of desired features such as energy efficiency upgrades, home automation and solar panel systems. By adding these upgrades into the cost of the home at no additional charge, Lennar is making tomorrow's standard of living affordable today.
Featured Product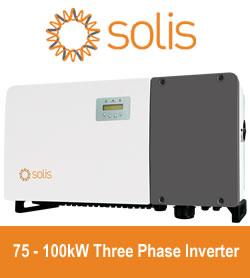 Solis75kW - 100kW series high-power string inverters are widely used in industrial and commercial rooftops. Solis's new three-phase string inverter is the first choice for industrial and commercial photovoltaics. 75-100kW three phase series string inverter have Maximum 28 strings input, support "Y" type connection in DC side. Maximum string input current 13A, support bifacial modules access.Supports anti-PID function to improve system efficiency.