SPG USA 4-5 February, Marriott Mission Valley, San Diego
The leading US solar developers will meet in San Diego next week for the launch of the 2015 edition of Solar Power Generation USA (SPG USA). Industry executives will gather at the meeting to discuss key strategic opportunities in the US solar market to continue steady growth within the waning utility-scale market. With rapid development cycles in comparison to other renewable and non-renewable tech, the face of solar has changed dramatically in the past five years and this has generated some concern amongst leading market players about their relevance in the new market reality.

Central to the concerns about the current market status quo is the move towards distributed or non-central generation of electricity. Sources report that the falling price of solar and a renewed social-conscience on the part of the everyday energy customer has almost doubled the demand for residential and community solar sources. This has precipitated an industry-wide concern about the role that utilities of the future will operate in the market.
The much-debated topic of net-metering always enters this realm of debate and whether this will continue to allow utilities in this market to engage with 'off-grid' customers. Key strategic discussion about how the 'Utility V2.0' will look takes center-stage at SPG, but more specifically, how existing utilities will need to adapt their business model to stay buoyant in this market.
Discussion at SPG promises to address some topical concerns prominent amongst leading solar developers. Oleg Popovsky, Director of Global Business Development for SunEdison, states: "[t]o me, SPG is one of the main annual solar industry events in North America. It brings together a diverse representation of industry participants to explore critical dynamics, current trends and best practices. What sets the event apart is its intimate setting, which fosters an exclusive thought-sharing and relationship building opportunity, which is ultimately paramount to the advancement of business model evolution for the entire solar industry."
Nadim Chaudhry, CEO and founder of Green Power Conferences adds: "Our expertise lies in producing research-led, high quality, interactive conferences that provide ample networking opportunities for the delegates, sponsors and partners. Our events create niche market places for utilities, developers, investors, suppliers and policy makers to meet, do business and develop partnerships",
SunEdison will play a prominent role in the discussion at the meeting. In the last year, the company has made significant progress in adapting their existing corporate structure to include current market challenges and to capitalize on these new business opportunities. Over the past year, SunEdison has announced a number of strategic adaptations, including their latest acquisition of First Wind, an existing onshore wind developer. How this will operate remains to be seen.
A major theme that has emerged on the agenda is the move towards commercial and industrial solar developments as being the next wave of solar for the previously super-sized utility-scale developers. This recurring theme will be discussed throughout the conferences with questions arising as to how to incorporate these smaller projects into an existing utility-scale portfolio as a matter of practicality.
Surprise market entrant in the distributed generation space is leading developer First Solar who announced in early-December a strategic partnership with solar-energy innovator, Clean Energy Collective. Clean Energy Collective was an award recipient at SPG in 2014 in the category of Most Innovative Solar Company for their continued ingenuity in making solar accessible to the broader community. Eran Mahrer, Senior Director of Utilities and Bart Rupert, Chief Management Officer will discuss the unique approach to providing community solar and long-term outlook on this market.
Whilst some corporates are looking beyond utility-scale into commercial and industrial applications, others are simply looking beyond the solar markets that they know. In a recent industry survey conducted by SPG USA, more than 70% of survey participants said that they were looking in other states (beyond California) for new opportunities for larger builds. But what will the market look like beyond the ITC expiration next year and can the solar industry survive beyond this?
Predictions of how this will play out and what will change in the industry as a result will be a top-priority at SPG USA.
Press passes are available, to apply email jenny.barlow@greenpowerconferences.com
To find out more about SPG USA visit www.solarpowergenerationusa.com
Featured Product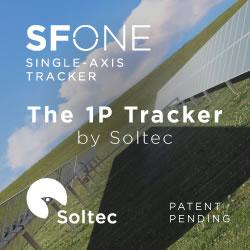 SFOne is the 1P single-axis tracker by Soltec. This tracker combines the mechanical simplicity with the extraordinary expertise of Soltec for more than 18 years. Specially designed for larger 72 an 78 cell modules, this tracker is self-powered thanks to its dedicated module, which results into a lower cost-operational power supply. The SFOne has a 5% less piles than standard competitor, what reduces a 75% the labor time.