Expert support for solar power generation plants ----Improves reliability and efficiency ----Comprehensive package of checks and tests
ZWANENBURG, The Netherlands--AEG Power Solutions (FWB:3W9K), a global provider of power electronic systems and solutions for industrial power supplies and renewable energy applications, today announced its PV Care Check service, providing responsive, expert support for solar power generation plants – whether the equipment was originally supplied by AEG Power Solutions (AEG PS) or another vendor.

With PV Care Check, solar plant operators can guarantee the availability of their equipment and ensure reliable operation. By using the services of AEG PS' certified experts, operators can maximize their plant's efficiency, and secure its long-term profitability.
On site, AEG PS' service technicians carry out functional tests to identify any problems or issues, and a visual inspection from the module up to the grid connection. Quick repairs are done immediately, while more serious issues are documented in a report, which includes a list of recommended measures to guarantee the long-term optimal yield of the power plant.
"AEG Power Solutions is known throughout the industry for our service teams' short response times and effective troubleshooting," says Dr. Stefan Kempen, Produkt Manager Advanced Power Systems at AEG Power Solutions. "Problems exist in 80 percent of solar plants in operation, with a wide range of possible errors that can considerably reduce the yield of the plant, and in the most severe cases can lead to life-threatening voltages – PV Care Check helps solve these problems."
The inspection package can include visual inspection, performance test, removal of organic and inorganic contaminants, computerized digital error diagnosis and temperature analysis, as well as a review of maintenance protocols. Defective modules are checked for typical errors, including cell fractions, insulation faults, hotspots, delaminating, and discoloration.
AEG PS also tests the system using insulation measurement, and looks for mechanical imperfections, such as loose connections and corrosion that can lead to ground-faults and outages. Services provided as part of PV Care Check can include optical scanning, cleaning of the inverter, thermography for detection of hotspots to the network analysis and upper shaft assessment (THDI/THDU).
AEG PS has a global network of 20 customer support centers, with 150 support technicians in the field. AEG PS service teams are regularly trained in the latest techniques, and have the appropriate in-depth knowledge and specialist equipment to carry out detailed analysis.
The PV Care Check service is available now in Germany, Austria and Switzerland. Additional countries are planned to be added.
Featured Product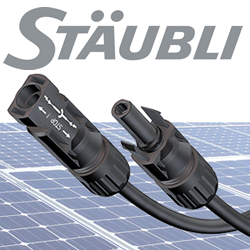 ​Stäubli Electrical Connectors are used on more than 300 GW, over 50% of the PV capacity worldwide. The MC4 family of UL and TUV listed products include connectors, in-line fuses, branch connectors, cable assembly and more.