GTM Research's newest report says the regional market will more than triple again in 2015.
The Latin American region, made up of Mexico, Central America, South America and the Caribbean, installed 625 megawatts of solar photovoltaics (PV) in 2014, a 370 percent increase in annual growth over 2013. That's according to the newly released Q4 2014 Latin America PV Playbook from GTM Research.

With its strong utility-scale market, Chile led the region in PV installations in 2014, making up more than three-quarters of the Latin American total. In the fourth quarter alone, Chile installed double the amount of Latin America's annual total in 2013.
The report ranks Mexico and Brazil in second and third place, respectively.
Mexico installed 67 megawatts of PV in 2014, down from the 72 megawatts installed in 2013. However, don't count the Mexican market out. GTM Research solar analyst Adam James notes in the report, "The real opportunity for Mexico lies ahead." James cites a forecasted 84 percent growth rate through 2018, with a cumulative capacity of 3.3 gigawatts at that point.
Despite ranking third in the region this year, Brazil did not live up to expectations. The report cites net metering problems and a lack of financing as constraining the distributed generation market in the country. Brazil installed 21 megawatts of PV in 2014, up from 19 megawatts the year prior. "Next year," writes James, "may improve with the introduction of lower-cost capital from the Brazilian Development Bank (BNDES), tax breaks at the national and state levels, and increased access to financing for distributed generation."
Latin America is beginning another breakthrough year, solidifying its position as the fastest-growing region in the history of the solar market. GTM Research forecasts the market to install 2.1 gigawatts of PV in 2015.
Key findings from the Q4 2014 report include:
-625 megawatts of PV were installed in Latin America in 2014, representing 370 percent annual growth over 2013
-The largest regional markets for solar in 2014 were Chile, Mexico and Brazil
-GTM Research expects the region to install 2.1 gigawatts in 2015, a 237 percent increase in annual growth over 2014
-The largest markets in 2015 are expected to be Chile, Honduras and Mexico
-The total PV project pipeline for Latin America now exceeds 30 gigawatts
Featured Product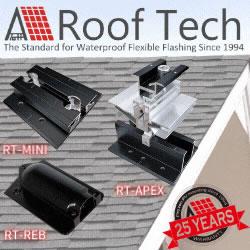 Now Roof Tech brings you the most innovative, watertight mounting systems ever developed for solar photovoltaic systems. Designed and manufactured exclusively for us by Japan's longtime leader in roofing technologies, Roof Tech products are 100% code-compliant and offer fast, simple installation and huge savings on shipping costs due to their compact, rail-less design. Learn more about our full line of versatile PV mounting solutions now available for residential installations. The next generation in rooftop solar mounting solutions."