In what some are calling the "Solar Super Bowl," the New England Patriots and Seattle Seahawks, whose stadiums rank fifth and sixth among all sports franchises in installed solar capacity, will play for the NFL championship in Super Bowl XLIX on Sunday, and bragging rights for fans of clean energy.
WASHINGTON – For the fourth time in just three years, a major professional sports championship will be decided on Sunday by teams which have invested significantly in clean, dependable solar energy, according to a new, first-of-its-kind analysis conducted by the Solar Energy Industries Association (SEIA).

In what some are calling the "Solar Super Bowl," the New England Patriots and Seattle Seahawks, whose stadiums rank fifth and sixth among all sports franchises in installed solar capacity, will play for the NFL championship in Super Bowl XLIX on Sunday, and bragging rights for fans of clean energy. Last year's World Series between the San Francisco Giants and Kansas City Royals also featured "solar champions," as did the 2013 World Series – pairing the Boston Red Sox and St. Louis Cardinals – and Super Bowl XLVI between the Patriots and New York Giants in 2012.
"More and more sports teams and organizations are making significant investments in solar energy because it makes senses – from both an economic and environmental standpoint," said SEIA President and CEO Rhone Resch. "On behalf of the 174,000 workers in our industry, we're extremely proud that solar energy has helped to 'light up the scoreboard' this season for both the Patriots and Seahawks on their march to the Super Bowl."
According to SEIA's analysis, 25 stadiums, arenas and raceways in 12 states – which are home to 27 professional sports teams – now have either a solar photovoltaic (PV) or solar hot water system, with construction underway at two additional stadiums. Today, all leading sports leagues in the United States, including professional football, baseball, basketball, hockey, soccer, NASCAR and the IndyCar Series, boast sizeable solar assets. To put that into perspective, last year nearly 30 million sports fans attended events across the U.S. at facilities powered by the sun.
The largest solar system in U.S. pro sports – and, for that matter, the world – is a sprawling 9 megawatt (MW) array located at the historic and famed Indianapolis Motor Speedway. This system is large enough to power more than 1,000 American homes.
"The Indianapolis Motor Speedway was founded as a proving ground for new automotive technology over a century ago. Today, as we prepare for the 99th running of the Indianapolis 500, we continue to be leader in testing technology and human ingenuity and we are excited that we have been able apply that spirit beyond the race track through our solar project," said Doug Boles, president of Indianapolis Motor Speedway.
This weekend's Super Bowl participants, the Patriots and Seahawks, have a combined solar capacity of 1,800 kilowatts (kW) at Gillette Stadium and CenturyLink Field, respectively – not far behind the NFL leading Philadelphia Eagles at 3,000 (kW) and Washington Redskins at 2,000 (kW).
"Since the construction of Gillette Stadium, we have focused on long-term sustainability and energy efficiency as we try to not only be good corporate citizens, but leave behind a healthy environment for our children and grandchildren," said Jim Nolan, New England Patriots senior vice president of operations, finance and administration. "We are proud of our renewable energy efforts and happy to see so many other sports franchises taking similar steps to collectively reduce our environmental impact."
In 2007, the Colorado Rockies became the first professional sports team to install a solar system at Coors Field in Denver. Several months later, the San Francisco Giants followed suit at AT&T Park. Since then, the number of solar systems in pro sports has grown 10-fold, bringing total PV capacity to 21.7 MW, generating a combined 28,000 MWh of electricity a year and offsetting nearly 20,000 metric tons of CO2 emissions. That's the equivalent of saving 2.2 million gallons of gasoline.
"The San Francisco Giants recognize that innovation and sustainability go hand-in-hand from our solar initiatives to our recycling and water conservation programs. Sustainability is one of the ways that we can be innovative as a business," said Alfonso Felder, Giants Senior Vice President of Administration.
In 2013, the Philadelphia Eagles – working with SEIA member NRG Energy – installed the largest solar system in the National Football League, which has become a model of efficiency.
"Our commitment to sustainability began in 2003 with the opening of Lincoln Financial Field," said Eagles President Don Smolenski. "What started with a blue bin under each employee's desk has grown into our company-wide Go Green initiative that encompasses energy efficiency, recycling, composting, green purchasing, reforestation and more. Through our partnership with NRG, we are now able to produce clean energy on site after installing more than 11,000 solar panels and 14 wind turbines. We are fortunate to have a platform that allows us to lead by example and reduce our environmental impact and we are supportive of all the other venues and organizations doing the same."
According to SEIA's analysis, the NFL has the most solar facilities in professional sports (10), followed by MLB (8), NBA (5), NHL (2), MLS (2) and NASCAR (2).
In terms of system size, the leaders by sport are:
NFL: Lincoln Financial Field, Philadelphia Eagles, 3 MW
MLB: AT&T Park, San Francisco Giants, 120 kW
NBA: Staples Center, LA Lakers/Clippers, 364 kW
NHL: Staples Center, LA Kings, 364 kW
MLS: Gillette Stadium/Patriot Place, New England Revolution, 1 MW
NASCAR: Pocono Raceway, 3 MW
"By our estimates, nearly 120,000 solar panels are now being used to help power many of our leading stadiums, arenas and raceways – and we expect that number to double in the not-too-distant future," Resch added. "Solar and sports have become a 'hot ticket' across America."
Featured Product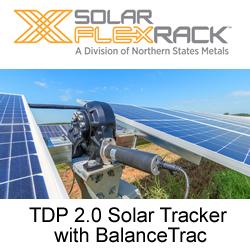 Solar FlexRack's latest solar tracker technology bundles an advanced tracker design with a full team of seasoned engineering and installation experts at your service. The next-generation solar tracker delivers a package of features that both enable increased energy yields for commercial and utility-scale solar installations, and significantly reduce project risks. That translates to smart installation cost-savings across your project budget.