Leading renewable energy underwriter employs O&M claims data to assess major cause of turbine failure in global wind industry
London, 2 February 2014 – Specialist renewable energy underwriter GCube Underwriting Limited has published an in-depth report, entitled Grinding Gearboxes, analysing gearbox failure by addressing root cause, financial impact and proactive steps to mitigate the frequency and severity of downtime.

As the central component of the drive system, the gearbox has always been a critical interface and constitutes 13% of the overall value of the typical onshore wind turbine. Nonetheless, the current financial climate has led several major gearbox manufacturers to reconsider the manufacturing process from first principles, from forging to final inspection.
This rethink has contributed to market pressures that have seen some companies face insolvency, which, in turn, has presented a major issue for operators seeking repairs and component replacements following the end of the warranty period.
With approximately 175,000 geared turbines in operation in 86 countries worldwide, there are around 1,200 incidents of gearbox failure reported each year – one failure per 145 turbines per year - commonly ranging between $200,000 and $300,000 in insurance claims, in some unique cases exceeding $500,000.
It is therefore crucial that asset managers take proactive, preventative steps to ensure that this financial and operational risk is managed appropriately.
Following on from Breaking Blades, the Grinding Gearboxes report forms part of a series entitled Global Trends in Wind Turbine Downtime Events. It seeks not only to quantify the inherent risk and financial impact of gearbox failure, but also to promote knowledge sharing among GCube insureds and supporting insurance brokers with a view to minimising that impact.
The report utilises GCube's extensive claims database to categorise all known root causes of gearbox failure, ranging from manufacturing defect and cracking of bearing coatings to abnormal blade loads and ineffective lubrication.
It then draws on the expert insight of leading gearbox manufacturer ZF, specialist consultancy Romax, and wind energy claims specialists Renewable Energy Loss Adjusters (RELA) in three in-depth interviews that explore best practice for gearbox maintenance, analysis and repair.
Grinding Gearboxes demonstrates the challenges gearbox failures pose for wind farm operators around the world and promotes industry collaboration to minimise balance sheet losses across the board.
"While GCube recognizes that gearbox incidents are, in some ways, unavoidable and will continue to occur, we must empower our insureds to use our data to raise greater awareness among their asset managers and project teams about the wider macro trends affecting their peer group," said Jatin Sharma, GCube's Head of Business Development and co-author of the report.
"Such trends identify risk, as well as opportunities, which complement the experiences of asset managers and their operating fleet, particularly in newer, more remote geographic markets such as Chile and South Africa or as ageing assets enter the post-warranty phase of their lifecycle in Europe, the United States and Australia."
To request a copy of Grinding Gearboxes: Global Trends in Wind Turbine Downtime Events, please email info@gcube-insurance.com.
Featured Product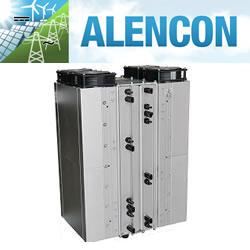 Alencon Systems is the premier manufacturer of high power, high voltage DC:DC optimizers for alternative energy applications including solar, battery energy storage, Microgrids, Fuel Cells and Electric Vehicle charging. Alencon's DC:DC converter offerings include the SPOT, BOSS and CUBE series DC:DC converters. The SPOT is a modular, uni-directional DC:DC solution ideal for solar applications. The BOSS is a modular, bi-directional unit for use with battery energy storage. The CUBE is a monolithic DC:DC converter which is available in both uni-directional and bi-directional modalities. Pictured above, is the Alencon SPOT.