NEXTracker's higher energy yield and installation cost savings are helping developers maximize project financial returns.
NEXTracker Delivers State-of Art Trackers for 223 Megawatts of SunEdison Projects in Latin America

FREMONT, CA, FEB. 2, 2015 – NEXTracker, Inc., designer and manufacturer of the world's most advanced single axis photovoltaic (PV) trackers, announced that it shipped a supply of single axis trackers to SunEdison, Inc. (NYSE: SUNE), a leading solar technology manufacturer and provider of solar energy services, which were used in the construction of some of Latin America's largest utility-scale solar projects, totaling 223 megawatts. The trackers were deployed for SunEdison projects in Chile to support 142 megawatts, and in Honduras to support 81 megawatts.
"Our experience installing NEXTracker in our projects in Chile and Honduras has been excellent," stated Sasan Aminpour, Vice President of Global Operations for SunEdison. "SunEdison's engineering teams have conducted extensive assessments of NEXTracker's technology, and have concluded that it is a reliable and cost effective platform for our ground-mounted projects."
"We're thrilled to be partnering again with SunEdison, a visionary leader in solar," said Dan Shugar, CEO of NEXTracker.
"NEXTracker's higher energy yield and installation cost savings are helping developers maximize project financial returns in Latin America. NEXTracker's unimpeded row design also provides valuable cost savings for panel cleaning in the dusty Chilean desert, and minimizes site grading requirements."
About NEXTracker, Inc.
NEXTracker (www.NEXTracker.com) offers a significant breakthrough in horizontal tracking, with lower costs, better performance and more flexibility for solar power plants. These benefits increase solar project profits for developers, EPCs and system owners. Leveraging world-class design and installation expertise, NEXTracker has delivered trackers for dozens of projects in sizes exceeding 80MW, across three continents. The company is headquartered in California with regional offices in Asia, Europe and South America.
###
Contact:
Susan DeVico
SusanDV@aol.com
(510) 339-1527
Featured Product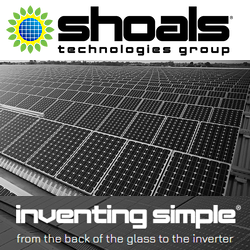 Inventing Simple® isn't just a slogan to us, it's a way of life. Using simple plug-and-play ideology, we revolutionized solar installations in 2003 with our Interconnect System™. Our harnessing system is now the gold standard EPC's use around the world. By using simple ideas, we are making solar energy a more affordable and clean power source for future generations.