SoCore Energy Selects Sunny Tripower Inverters for 44 Movie Theater, Shipping and Retail Locations
ROCKLIN, Calif., Feb. 04, 2015—SMA has been selected by SoCore Energy, the market leader in solar portfolio development and commercial rooftop installations, to supply 17.5 MW of commercial-scale inverters. SoCore chose the Sunny Tripower TL-US three-phase, transformerless inverter for 44 PV projects by Fortune 500 companies nationwide. More than 730 inverters have been delivered and will energize some of the most well-known movie theater, shipping and retail chains in the United States. All of the projects will be online by early this year.

"We are excited that the Sunny Tripower, the world's best-selling three-phase inverter, was selected for this significant commercial-scale order," said Henry Dziuba, president and general manager of SMA America. "The Sunny Tripower provides unparalleled performance across all U.S. geographies, making it the ideal choice for these nationwide projects."
Located in six states across the U.S., the installations will have an average system size of 410 kW and will be powered by the Sunny Tripower 20000TL-US and 24000TL-US.
"Our Fortune 500 customers expect the best, so quality and reliability are paramount," said Pete Kadens, president of SoCore. "Not only does the Sunny Tripower fulfill these needs, but the fact that they are manufactured domestically allows us to meet the very tight timelines these projects require."
The Sunny Tripower TL-US features unmatched design flexibility, high efficiency and enhanced safety, making it the ideal solution for decentralized commercial PV plants. Also available in 12 and 15 kilowatt models, the Sunny Tripower TL-US boasts peak efficiency of more than 98 percent while its OptiTrac™ Global Peak maximum power point (MPP) tracking algorithm further maximizes energy production by minimizing the effects of shade. It is suitable for both 600 VDC and 1,000 VDC applications and offers two independent MPP trackers, a combined or detached connection unit, and myriad mounting configurations (vertical to 15 degrees from horizontal), further increasing design flexibility.
Safety and reliability have been enhanced with the Sunny Tripower TL-US due to its all-pole ground fault protection, integrated AFCI, reverse polarity indicator and DC monitoring per MPPT, granular down to four strings. At the SoCore projects, the Sunny Tripower 24000TL-US will also be mounted on an innovative racking solution designed for roof mounting three-phase, commercial-scale inverters, enabling rapid deployment and maintaining a high quality of installation and commissioning while meeting the NEC 2014 rapid shutdown requirement.
The Sunny Tripower TL-US delivers a future-proof solution with full grid management features including power factor correction, low-voltage ride through, curtailment and frequency response, and innovative monitoring and communications features allowing start/stop/reset remote capability, as well as SMA Service, technical support and plant-wide O&M availability. Extended warranties were selected for many of the SoCore projects.
The Sunny Tripower TL-US is available through SMA's North American distribution program. To locate an SMA Authorized Distributor, solar professionals can visit SMA America's website and click "Where to Buy" to learn more about each distribution partner.
About SMA
The SMA Group generated sales of more than €930 million in 2013 and is the global market leader for solar inverters, a key component of all PV plants. SMA offers innovative key technologies for future power supply structures. It is headquartered in Niestetal, near Kassel, Germany, and is represented in 21 countries. The Group employs more than 5,000 people worldwide. SMA's broad product portfolio includes a compatible inverter for every type of module on the market and for all plant sizes. The product range includes both inverters for grid-connected photovoltaic plants as well as off-grid and hybrid system technology. The product portfolio is supplemented by comprehensive services and operational management of utility-scale PV plants. Since 2008, the Group's parent company, SMA Solar Technology AG, has been listed on the Prime Standard of the Frankfurt Stock Exchange (S92) and also in the TecDAX index www.SMA-America.com
Featured Product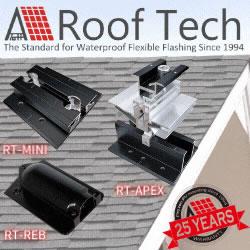 Now Roof Tech brings you the most innovative, watertight mounting systems ever developed for solar photovoltaic systems. Designed and manufactured exclusively for us by Japan's longtime leader in roofing technologies, Roof Tech products are 100% code-compliant and offer fast, simple installation and huge savings on shipping costs due to their compact, rail-less design. Learn more about our full line of versatile PV mounting solutions now available for residential installations. The next generation in rooftop solar mounting solutions."