The signing of this exclusive distribution agreement signifies the iPV Solar Tracker official sales expansion into the European market.
BIG SUN Energy Technology Inc. (BIG SUN) and Sino-American Silicon Products Inc. (SAS), have signed an iPV Solar Tracker exclusive distributor agreement on February 9th, 2015. Both parties have agreed to authorize SAS to distribute the patented iPV Solar Tracker and iPVSYS monitoring system in Germany and Italy for a period of three years. Within these three years, SAS plans to put main efforts on sales of iPV Solar Tracker in Italy and German markets. In addition to supplying the iPV Solar Tracker, BIG SUN will provide technical support, sales and service assistance to ensure quality products.

The signing of this exclusive distribution agreement signifies the iPV Solar Tracker official sales expansion into the European market. BIG SUN's chairman and iPV Solar Tracker inventor, Summer Luo indicates, "We've installed a demo site in Luxembourg in July 2014 and with our iPVSYS monitoring control system have been able to remotely monitor the power generation conditions, accurately track the sun's path in Europe's high latitude regions, obtain greater energy efficiency due to the 40°-90° tilt angle range, and counteract adverse winter conditions with the snow removal mode to protect the functioning of the solar tracker. This has instilled SAS with confidence in our product and will to become our exclusive distributor." Since its installation, the Luxembourg iPV Solar Tracker site has an accumulated energy of 1,345.6 kWh and reduced 857.1 kg of carbon dioxide, which are outstanding results.
High efficiency products are always the winning key elements of SAS, and PV market is one important target of SAS global strategy. SAS is confident on market expansion, since iPV Solar Tracker exclusive patented by Big Sun is a very good platform as a product with high efficiency. Moreover, in 2014, SAS acquired Aleo Solar, a high-performance modules company, which has a good foundation base on brand recognition and reputation in Europe. It is because the expectation to Aleo solar, Big Sun decided to commit exclusive distributor agreement to SAS. Through this cooperation, SAS can extend business field to power station clients. This cooperation is able to strengthen the competitiveness of both SAS and Big Sun, to build a complete supply chain, to provide comprehensive services for global clients and therefore a better interest for shareholders for both sides.
In 2012, BIG SUN publicly released the iPV Solar Tracker, which was developed by its subsidiary Topper Sun Energy Technology Company (Topper Sun). In 2013, the iPV Solar Tracker was awarded the National Industrial Innovation Award presented by the Ministry of Economic Affairs. 2014, successively signed strategic agreements with global leading solar companies Xinjiang TBEA and Shenzhen Yingli New Energy Resources Co., Ltd to specifically focus on the iPV Solar Tracker. This solar tracker is exclusively patented for its universal axis mechanism which enables 360° horizontal axis movement and 40°-90° elevation tilting. Additional features include accurate solar energy collection, increased power generation efficiency at higher latitudes, and stable and reliable economic benefits aided by the iPVSYS monitoring software. Previous power generation recordings include over 35% power gain compared to fixed-type PV systems and a single-day power achievement exceeding 8.5 kWh/kWp. As governments continue to reduce solar subsidies and incentives, the iPV Solar Tracker will allow investors to maintain their original ROI, making it the PV power system of choice for future solar power plants. The iPV Solar Tracker has been installed in various applications such as petrol station rooftops, ground mounted power stations, and has been integrated into agriculture greenhouses. These multiple applications will assist SAS greatly in expanding their European market.
In regards to their cooperation, BIG SUN's chairman, Summer Luo thanked SAS and stated, "Now is the time for strategic cooperation. Even though we are in the same solar industry profession, we should use a mutual benefiting situation to create a winning position and to promote the overall solar industry. We welcome even more interested solar parties to discuss strategic cooperation." Currently, the iPV Solar Tracker has received more than 20 patents in 40 countries, including all 28 EU countries, with more applications pending. This strategic cooperation with SAS will be BIG SUN's first significant steps into Europe, with aspirations to further expand their global presence, and enable the iPV Solar Tracker to provide service in each country.
About Sino-American Silicon Products Inc.
Established in 1981, SAS (Sino-American Silicon Products Inc.) is the largest supplier of 3" ~ 12" wafers domestically at present, possessing complete production lines. Their major products include semiconductor, solar and sapphire, application expands to solar, photovoltaic and daily energy. In 2011, SAS was ranked third runner-up in Business Next Magazine Taiwan INFO TECH TOP 100. n 2014 to implement the vertical integration of solar business groups for the enhancement of operational performance and competitiveness, SAS established a new branch office at Yilan by merging Sunrise Global Solar Energy. SAS is one of few companies achieve the benefit of vertical integration and the extension of solar energy business that develops upstream materials, solar cells and modules at the same time.
About Aleo Solar
Aleao Solar, founded in 2001, is a world-leading German manufacturer of high-performance PV modules. In 2014, they were acquired by Taiwan's Sino-American Silicon Products Inc. (SAS), as a subsidiary to leverage German manufacturing and strong brand recognition. Aleo Solar will represent SAS in implementing their global distribution strategy.
About Big Sun
BIG SUN was founded in 2006. Their core business is focused on the design, production, and sale of high-quality solar products. Its aim is to boost renewable and affordable energy around the world in order to benefit the environment and our next generation. BIG SUN's main products include 6" mono-crystalline silicon solar cells, 6" multi-crystalline silicon solar cells and the iPV Solar Tracker. The conversion efficiency of 6" mono-crystalline silicon solar cell can reach up to 19.8% and 6" multi-crystalline silicon solar cell can reach up to 18%. The iPV Solar Tracker is an innovative universal-axis PV tracker which can maximize solar energy generation over 35% compared to a fixed-tilt PV system.
Big Sun:http://www.bigsun-energy.com/products_ipv.php
Topper Sun:http://www.toppersun-energy.com/products/prodetail/28
SAS:http://www.saswafer.com/pages/sas/tw/aboutus/company.aspx
Aleo Solar :http://www.aleo-solar.de/en/company/aleo-solar/
Featured Product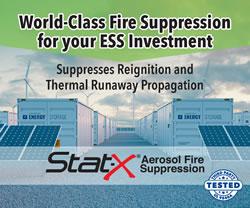 Stat-X® condensed aerosol fire suppression is a solution for energy storage systems (ESS) and battery energy storage systems (BESS) applications. Our Stat-X condensed aerosol fire extinguishing product was tested for efficacy in suppressing li-ion battery fires. It was found that the product successfully extinguished single and double cell battery fires. This testing was conducted in parallel with a large battery fire testing program on behalf of a large energy storage company.